5186 views, 26 comments and 24 faves in
Interview #45: Daniel Diéguez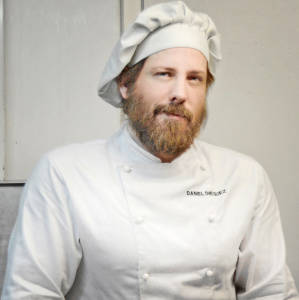 Daniel's: CakesDecor Account | Facebook Page
Interview
1. Tell us a little about yourself, family, where do you live and what did you do for a living before making cakes if anything?
I'm from Barcelona, but currently living in Galicia (northwest side of Spain). I divorced five years ago and my family lives a bit far, but as I bought my flat here at Pontevedra while I was studying and working at Vigo's University in Fine arts, I got stucked here by the broke of the real state bubble here in Spain. So at first I started the cake business to pay bills as a complementary work but slowly I've been transforming it until today. Nowadays I mix my fine arts background and the professional experience working at pastry shops teaching all around the world my innovative techniques.
2. How or why did you get started in cake decorating… was it by accident or did you always have a passion for it?
I must say that I've learned most of my recipes from my Grandmother. I've spent lots of time in the kitchen since I was a child watching the sponge grow in the oven which was entrancing. So I grew cooking all kind of sweet stuff and drawing, sculpting and painting a lot but I never mixed that abilities until I finished my fine arts degree studying at London. When I saw all the wonders that could be done looking at the windows of some pastry shops in London I realized that was what I wanted to do. I came back to Spain and started my personal research mixing my fine arts techniques with all I learned as a professional working and from my grandmother's abilities in the kitchen.
3. Is there one tool you cannot live without and one you don't have yet but really want?
I couldn't live without my hands, they are my preferred tool. But as I'm very obsessed with tools I usually buy all the tools I want… I can't avoid that, even if at the end I only use a few.
4. I know you have accomplished so much already with your competition entries so do you have any advice for those that might want to start competing, especially for those too scared to compete?
In fact I entered a lot of art competitions and have got some awards, but in cake world I haven't entered that much. I have only entered in two competitions: Bcn & Cake where I got first place, and Cake International where I achieved Gold and silver medal. But that was only one edition each, nowadays I've been judging at Bcn & Cake. And I'm especially glad to say I have been approved after my training for judging at Cake International. I must say that entering competitions is so important to improve skills. The most important thing is that you really try to go over your limits and reach a new level, something that you can't ever do in business. And the other thing I love about competitions is to see all that amazing cakes, all the effort and the love everyone puts into them. That's pretty amazing. You can't miss the experience of entering competitions, especially at Cake International which is the most important International cake competition and it really deserves the title.
5. What part of making cakes do you like most and least?
I must say that the cakes are much tastier than the stone, wood or clay… my previous sculpting materials LOL. So the part I like most is eating them. I can't find a dislike.
6. Tell us one thing about yourself that many of us might not know already.
Oh wow… a secret… hahahaha. Let me think a bit… I didn't use to show pictures of my big belly xD I'm always doing the effort of pushing it inside.
7. What is your favorite cake you have done to date?
Every cake is a challenge itself and at the end you must love your results because it is all you got, even if they are not perfect. That gives you the courage to follow your path and improve your skills. So I love every cake I've done. But if I need to choose probably I would say my "Forest Spirit in Autumn" has been one of my favorites, and of course "Ann" the first and only 3D bust cake 100% edible even structure that I teach at my classes, It has taken me time to develop the techniques I teach in that class and I love so much a sculpted cake all edible.
8. Do you have a bucket list and if so what might one or two of those be and it does not have to be cake related?
Nope, I could die today perfectly. I just try to live every day the best I can but I don't see the death as a dramatic thing.
9. What would you say has been your biggest cake challenge to date and if you could have a do-over of it would you want to and what about it would you change?
The biggest cake challenge til today has been the monumental cake of more than 200 kg and 2'5x2'5x0'8 meters that I've done at Bcn & Cake fair with the 6 students per day and the marvelous Mayte Rodriguez & Arantxa Arteaga as "The Caketastics". I wouldn't change a thing about it. But there are lots of awesome projects coming I can't wait to do and to share :D.
10. Is their one technique or sugar skill that you have not tried yet but really would like to learn?
I'm obsessed about trying techniques so I think I've almost tried everything though I obviously can't do everything perfectly, but I'm improving day by day.
11. What is your most favorite ingredient to add into a cake?
That's easy to say… CHOCOLATE!
12. Do you sketch your cakes or just wing it?
It depends on the design, but usually I have a clear idea of them though I don't sketch all.
13. For anyone just starting out what would be one piece of advice you would give them?
Enjoy and don't suffer too much about mistakes. The only way of learning is having mistakes. But practicing gets to perfection.
14. What's the best lesson you have learned while making cakes so far?
Too much humidity or heat together or separated aren't good if you want them to keep the shape. The fridge and the air conditioner are my best friends. And NEVER, NEVER put a cake in the direct sunlight.
15. Where would you like to see yourself in say 5 years from now?
Married, but doing mostly the same.
16. Where do you find most of your inspiration from for your designs?
Everywhere, everything I see and I like: nature, faces, bodies, animals, textures, art…
17. And one crazy one just for fun…If you could be reincarnated but you had to be a woman which woman in time would you want to be and why?
Wow, hahaha I wasn't expecting that question. Let me think… there are a lot of amazing women in history. But the problem is that they usually suffer a lot because of men or just the patriarchal society. I would love to give something to the world like Marie Curie, Frida, Georgia O'Kefee, Camille Claudel, Louise Bourgeoise… but as I'm not that sacrificed. I would prefer being someone like Oprah Winfrey.
Thank you Shags and Daniel for the interview ;)
Some of Daniel's Cakes and cookies:
-- -- Michal, http://cakesdecor.com | My Facebook: http://www.facebook.com/michal.bulla