Interview #37: Jonathan Theuma from JT Cakes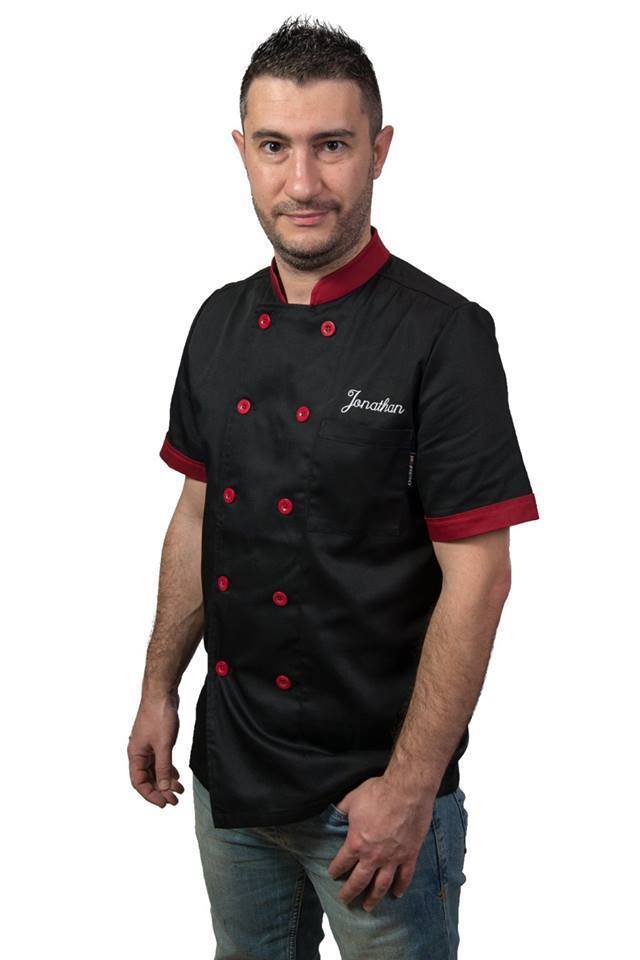 1. How or why did you get started in cake decorating… was it by accident or did you always have a passion for it?
Since I was a kid I always loved drawing, painting and was interested in art. Later, in my teens, I was introduced to cake decorating by my late dad. It never occured to me, at that time, that one day I would merge art and cake in one. So I think it was always a hidden passion.
My first and only decorating course was in sugar flowers taught by one of the greatest in my country, Edward Calleja. In the next few years I worked on some wedding cakes with dad. He would bake and cover the cakes and I would work on the sugar flower sprays. Unfortunately dad passed away suddenly in 2004 and for the next 7 years I abandoned the art of cakes. It was 4 years ago that I started again.
2. Tell us a little about yourself, family, where do you live and what did you do for a living before making cakes if anything?
I live on the tiny Island of Malta, in the middle of the Mediterranean sea. It's mostly warm here throughout the year with lots of humidity.
Caking is just a part time for now. I have a full time job with the government department.
When I'm not caking I love reading and football (soccer), but caking takes most of my time.
3. What is the one tool you cannot live without and one you don't have yet but really want?
A tool that I can't live without are definitely my brushes. I call them my little army. Regarding the other tool that I don't own and would really like to have one day, is the one that obvious every cake decorator wants, a fondant sheeter. Life would be so easier.
4. How did you find cakesdecor and what makes it a place you want to keep sharing on?
I can't remember how I found out about Cakesdecor. Probably from social media. I remember returning back a couple of times, and then I created my account. I started posting my creations, and since then I try visit CD almost every day. I'm really fascinated by this amazing cake community and all the talent and friendly people speaking the same language and that is ''Cake language''.
5. What part of making cakes do you like most and least?
The most I like is when I'm doing a new technique or a new texture and it works perfectly. I also like to see people's reaction when they see the cake especially kids. I once saw a kid crying with joy cause he couldn't believe the cake was for him. On the other hand I don't like the baking part. I consider myself more a cake decorator and an artist than a baker.
6. What is your favorite cake you have done to date?
That is definitely my gravity defying floating cubes cake.
The idea came exactly one year ago. I never saw any floating real cake cubes before. So I thought the idea will be very innovative to the cake world. And it sure was. The first and second one went viral around the world. And I can't remember how many asked: "But how did you do it? This is impossible." I say Impossible is nothing. It can be done.
Since then I inspired many people to try this ingenious idea and I love to see ''Jon's floating cake cubes'' popping up all over the cake world. I am really proud of what I have achieved.
If anyone want to try it I have a tutorial for it. https://jtcakes.ecwid.com/
7. What would you say has been your biggest cake challenge to date and if you could have a do-over of it would you want to and what about it would you change?
My biggest challenge so far was the mother's day cake from last year I did for Super Moms Collaboration. It was my first collaboration and I was very nervous working with all those talented and famous cake artists. I did the bottom tier painted, which was my comfort zone. The huge clematis on top I did my own templates and it was the first time that I did ruffles. It was scary to think that I tried some new things on my first collab piece that would be exposed and shared in the whole cake community. But in the end I'm happy with the results and it also made it in print in American Cake Decorating magazine, my first ever cake that made it to print.
Another big challenge was the Kratos model I've done lately. We have a very warm and humid weather here, so working with modelling chocolate on my first human stand up figure, was very challenging.
8. What is one technique or sugar skill that you have not tried yet but really would like to learn?
Pulled sugar. I remember I attended a demonstration in 2011 at the Squires Kitchen Cake show and was intrigued by the technique.
9. Do you have a bucket list and if so what might one or two of those be and it does not have to be cake related?
Yes. Top 2 on my bucket list are: 1 year holiday going round the world and Living on a remote island for 1 week .
10. Could you give some tips to people who have just started decorating cakes or would love to start?
A powerful tip I want to give people is ''Never give up"". It's important to try different things. If you think you are good, for example, in doing sugar flowers and not very good at modelling, then master the sugar flowers first then practise the modelling later.
11. Are you supersticious and if so what is it?
Yes I know it's silly but I'm very superstitious. I believe in amulets and good and bad omens. I even carry a good luck charm when I'm abroad, a charm my niece gave me a long time ago, I think it was in 2003 before I went on a 1 month holiday in Mexico. Since then it's always in my luggage.
12. Is there one color you always feel yourself drawn to when designing a cake?
I definitely like black and white cakes and black and gold ones. But I try to use different colours. Many clients ask for all white cakes for their weddings because they are afraid to use colours on their wedding ones especially vibrant colours.
I showed some sketches and ideas to my clients by showing them how amazing wedding cakes can turn out with pastel or vibrant colours, like the recent Love Birds cake and last year's Summer Wedding cake.
13. Do you have one cake designer that really inspires you?
I do have a lot of inspiring cake designers. There's so much talent out there that even an unknown cake decorator, his or her work can be inspiring.
14. Do you sketch your cakes or just wing it?
Sketch. Always. You always need a guide line, match the colours, see if a small or a huge sugar flower will match with the design etc.. Most of the time I will end up doing something different from the original sketch but definitely I always sketch. Even a quick one.
15. What is the one cake you are still hoping to get asked to make?
I'm not sure, but maybe something different and challenging. Something I've never done before.
16. What's the best lesson you have learned while making cakes so far?
Always plan ahead. Especially when working on Wedding Cakes. A new technique that you may think it will take a couple of hours to do might end up taking much more.
17. And one crazy one just for fun…If you could star in any movie which one would it be and why?
I love crazy questions. That would be a part, even a small one, in Pirates of the Caribbean. Anyone of them. A part in all of them would be much nicer. A role next to Kiera would be a dream.
Thank so much for the opportunity.
JT's Cakes:
-- -- Michal, http://cakesdecor.com | My Facebook: http://www.facebook.com/michal.bulla