6245 views, 41 comments and 24 faves in
Interview #33: Melanie Byrne of The Enchanting Merchant Company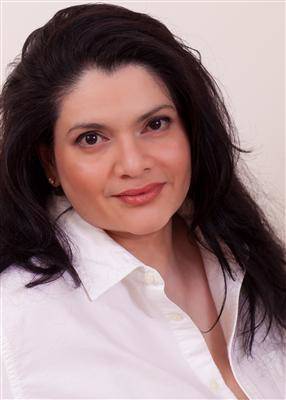 1. How or why did you get started in cake decorating… was it by accident or did you always a passion for it?
I used to love baking when I was younger because it was my form of escaping everything that was going on around me. I was always a bookworm and one of my favorite books to read was a book on royal icing, published in the UK sometime in the seventies. I would read it over and over until I memorised the content and techniques. I discovered my passion for sugar flowers when I was about 14 and had to make some sugar roses for a friend's birthday cake. Without training, I seemed to be able to produce this delicate sugar rose and I was forever hooked!! While I have had some great jobs, baking and decorating cakes for family and friends was something I enjoyed.
2. Tell us a little about yourself, married, kids, where do you live and what did you do for a living before making cakes if anything?
I am of South Indian origin, born in Malaysia and migrated to Australia as a child. I worked as a Paralegal for a number of years and then changing careers to work in the booming mining industry in Western Australia in various roles and finally as Superintendent Systems & Business Solutions. While all of this was going on I had put a five-year plan in place to train and learn the cake business properly before I made a commitment to work in the industry full time. I wanted to go into it knowing all the negatives, positives plus I have absolutely no patience in learning anything though trial and error. I made the decision to spend the money and time on training to master the fundamentals in cake decorating. I did not want to take on such a big commitment as opening a business without this training. Life had other things planned for me as I looked to transitioning into cake decorating fulltime. In 2013, I migrated to Scotland with my rottweiler and what seemed like a huge shipping container of cake equipment and shoes. I now call Scotland my home and could not imagine living anywhere else.
3. What is the one tool you cannot live without and one you don't have yet but really want?
The one tool that I would be totally lost without is my double-ended seamless ball tool. To be it is an essential tool for my flower work. The one new cake toy that I really want is a fondant sheeter. The thought of never to having roll fondant again is pure bliss!!
4. How did you find cakesdecor and what makes it a place you want to keep sharing on?
I found out about CakesDecor when I saw a cake page share their Daily Top 3 widget. I don't share every cake I make but I do share any creations that may have a unique element. I rarely share my creations on other pages or sites so CakesDecor has become the one external platform that I share my creations as it is user friendly.
5. What part of making cakes do you like most and least?
I love decorating the cake and seeing all the individual elements created come together to form a beautiful cake. Least favorite part would be the endless cleaning, as I love everything spotless and organised otherwise I can't function in my workspace.
6. Where do you get most of your inspiration from for your cakes?
My inspiration for cakes usually comes from a combination of art, nature, jewelry, fashion, interior design and my travels. It is very rare for any one of my creations to be created solely from a single source of inspiration.
7. What is your favorite cake you have done to date?
Usually the current cake that I am working on would be my favorite cake as once I have completed a design, my brain is usually focused on the next design. I do have a soft spot for the "Gilded Evening" as it was the first cake I had published in a magazine.
8. Do you have a bucket list and if so what might one or two of those be and it does not have to be
cake related?
I have an extremely long bucket list/spreadsheet as for every item I complete; I seem to be able to replace it with a couple of new ones!! A cake related item would be to study with one of my cake idols Ron Ben-Israel. The other, a non-cake related item would be to spend a couple of weeks in a detox/spa wellness centre.
9. What would you say has been your biggest cake challenge to date and if you could have a do-over of it would you want to and what about it would you change?
My biggest cake challenge to date would be the piece that I submitted for the 2014 Sugar Skulls collaboration. It was my first collaboration and in an area that was definitely out of my comfort zone. While I appreciate the work that goes into a novelty cake, it is not my area of interest so at time can find it rather challenging. I wouldn't change my creation but probably would have made it a lot smaller!!
10. What is one technique or sugar skill that you have not tried yet but really would like to learn.
I would love to work more isomalt, mainly learning the art of sugar blowing & pulled sugar. It is an amazing to watch and my mind ticks over with the endless possibilities.
11. What is your favorite flavor of cake that you make?
I have two favorite flavors, in winter it is my signature red velvet cake and in summer it would have to be my pink champagne cake (it is made with champagne so how can I resist!!)
12. Do you sketch your cakes or just wing it?
I ALWAYS sketch my cakes. I love being organized so everything is documented and planned, including my cakes. It makes life easier when keeping track of orders and you can't always rely on your memory when you are busy.
13. What is the one cake you are still hoping to get asked to make?
The one dream cake I would love to make would be an extremely tall cake (not necessarily wide) with a zillion sugar flowers. The kind of cake that would have me making flowers for months.
14. How did you come up with your business name, it is so unique?
A friend of mine who used to visit me always said I did not live in a house but in an enchanted garden as my house was always filled with sugar & fresh flowers. When I decided to finally open my business years later, the name evolved from that memory
15. And one crazy one just for fun…If you could come back as an animal which animal would you
choose and why!
If I could come back as an animal it would have to be a bird. The idea of having wings & flying appeals to me.
Some of Melanie's Cakes:
Thank you Shags and Melanie for the interview!
-- -- Michal, http://cakesdecor.com | My Facebook: http://www.facebook.com/michal.bulla