Secret recipe: All natural chocolate ganache from scratch - naturally sweetened
Hi everyone. I umm'd & aah'd about keeping this recipe a secret forever, or if or how I should share it… in an eventual book, as a paid or free tutorial, as a video, series of pictures or just in text. I've decided to put it up now while you...
Hi everyone.
I umm'd & aah'd about keeping this recipe a secret forever, or if or how I should share it… in an eventual book, as a paid or free tutorial, as a video, series of pictures or just in text. I've decided to put it up now while you can still see my "alternative dessert table" on homepage, and to give it to you like this because I love you all & care about you, & want the best for you all in your personal lives & business. So the cost of this information will be to read the blurb I am about to give before the recipe, and to try it out no matter how cynical you might be – please :) I really think it'll open up new worlds for us as bakers.
I've still called this ganache because, technically, it is – just not in the way we know it. I made chocolates way before I properly decorated cakes, and learnt a lot about what makes a ganache. Essentially it's an emulsion of the oils and water in the ingredients. A broken ganache is when those ratios are out of balance, or you've whipped the cream so much the fat and water separate out into butter and milk. This recipe uses a similar concept, but different sources of oil and water. I developed it using the Laduree dark chocolate truffle recipe as a reference for the fat/water ratio and depth of chocolate flavour.
Reasons to try this recipe:
1. It's all natural, easily made organic, and from scratch ingredients with no nasties hidden in them
2. It's faster than making regular ganache but has an almost identical consistency – it takes about 3 minutes to mix up, you can use it instantly & it stays softer than ganache while working with it too, so no lumpy bits at the edge of the bowl
3. It tastes amazing! I pipe it into truffles that just disappear so quickly, a few drops of peppermint or orange oil makes amazing little dollops of joy – they taste of such a clean and pure chocolate flavour, they're rich without being overpowering and sweet without causing a sugar rush, this to me is what all chocolate should taste like. If you're cynical just make 1/4 batch as orange or mint truffles & try them, you won't regret it
4. Honey is naturally more sweet tasting than white sugar, so you get the same sweetness using less of it. These don't actually taste of honey (I'm not that much of a fan of it's flavour) because of the mild honey used, it just makes it sweet
5. As much as we hate to admit it, white sugar has become "uncool" in a lot of new diet trends. The paleo & primal diets don't allow refined sugars, I'm in the practically sugar-obsessed UK & within the last month alone I've had leaflets through my door from the government warning about sugar, I've seen posters for reduced sugar energy drinks (surely that's a contradiction in terms?) and have seen celebrities jump on to the bandwagon and start writing books about "5 weeks to sugar free","100 sugar free recipes" and "I quit sugar" etc. I think this trend will only get more popular, and already there is a fair demand for paleo/primal cakes in some places in the world. If we can develop and use recipes like this we can as bakers make ourselves more robust against changes in demand.
Ok, so, on to the recipe!
200g full fat mascarpone cheese, closer to room temp is best
50g coconut oil, melted
50g cocoa powder
45g mild flavoured honey like Acacia or English Wildflower
optional: 4-5 drops peppermint or orange oil (for this quantity)
method:
1. have everything measured out before you start.
2. melt the coconut oil in large bowl in the microwave or on a double boiler until just melted. Remove from the heat.
3. stir in all of the ingredients until smooth and creamy. If you use colder mascarpone it will take a little more work, and the final mix will have the consistency of whipped ganache. You may need to heat it in the microwave in 10s bursts if your cheese is so cold it made the coconut oil set again! If using room temp mascarpone or a warmer mixing bowl (not hot please!) the ganache will be smooth and shiny, much like regular ganache, and a bit softer but still holds it's shape enough to be used on a cake immediately. To pipe, it's best to let it firm a little or whip it until it cools slightly.
4. Use on a chilled cake much as you would regular ganache. It sets beautifully after a minute or two in contact with the cool side of the cake.
5. Refrigerate. This filling, like SMBC, needs to be refrigerated. It sets firm enough to touch without coming off on your hands. After about a day in the fridge the outside sets even more, so it's no longer sticky even after sitting at room temperature for a while.
6. enjoy!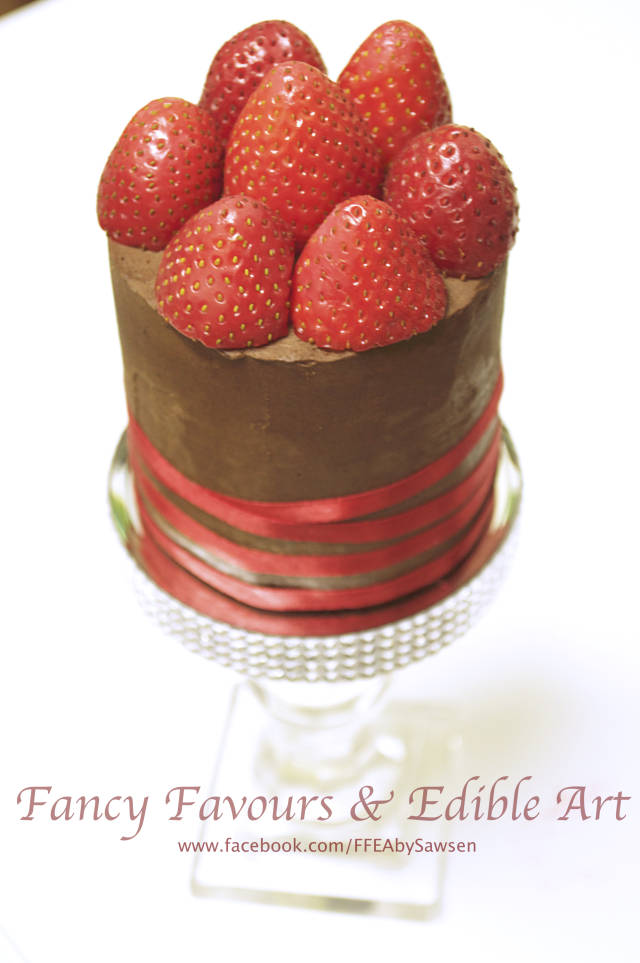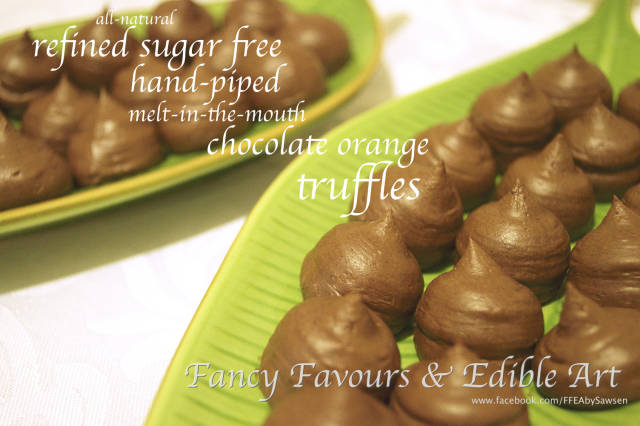 35