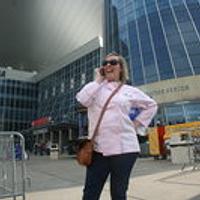 Renay Zamora
posted over 9 years ago
Pinched Sharp Edge Fondant Tutorial
Hi all! I've been so busy here lately I've barely had time to post but I've been keeping up with all of the gorgeous work being posted here!
I created my first video tutorial and wanted to share it with you.
I've been having problems with the sharp top edge/upside-down technique. I keep getting bubbles and tears that I never had before. And my fear of dropping a cake, especially my big, heavy cakes, is enough to make me start sweating and turn my stomach into a knotted mess!
I figured out a way to get a sharp edge without having to turn my cake upside-down or use acrylic sheets/panels and thought surely I'm not the only one who has issues like this so, I'm sharing my experience.
I hope you enjoy it & it helps in your cake decorating journey!
Peace, love & cake!