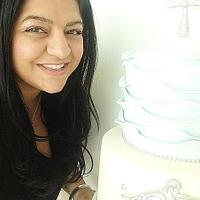 It's a Cake Thing
posted
about 9 years ago
Ranunculus Floral Wedding Cake
Advertisement
Advertisement
Ranunculus Floral Wedding Cake
Advertisement
Advertisement
This was a wedding cake I made after being asked for the first time to submit to Cake Central. I was so happy to have it published in their July 2013 issue as this was my first ever Cake in Print… Big achievement for me.
I'm most proud of this cake given the tight deadline I had to complete it and the fact that I had never in my life made a Ranunculus Flower or Hand Painted on a cake. Those were two of the requirements to submit and I was happy I went out of my comfort zone to try both techniques.
Hope you enjoy it as much as I enjoyed making it.
~Daniela xo www.facebook.com/itsacakethingwoodbridge