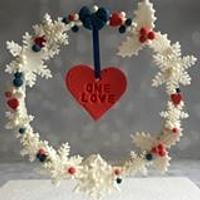 Kylie Marks
posted
over 5 years ago
My daughter's 17th birthday cake - Harry Styles tattoo inspired
Advertisement
Advertisement
My daughter's 17th birthday cake - Harry Styles tattoo inspired
Advertisement
Advertisement
Any Harry Styles fans recognise these designs? I hope I have done them justice. It was certainly a great challenge for me.
My daughter's 17th birthday cake inspired by Harry Style's tattoos,
Cake features hand painted representation of Harry's tattoos, edible gold paint and edible lace.
Top tier cake flavour – delicious vegan chocolate cake with dairy free dark chocolate and coconut milk ganache filling.