Cake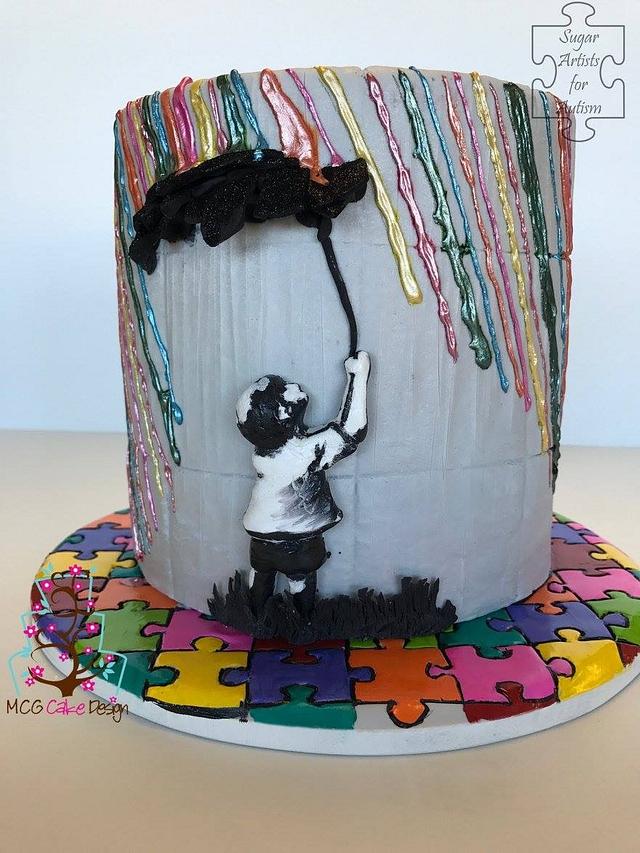 Sugar Art for Autism Collaboration
My inspiration was my son's best friend who is 14 years old and he has autism. We were talking about the collaboration and suddenly I remembered a picture of a friend that she post on instagram. This mural is in Dubai and for me and my friend it completely express the world of colors his child sees and perceives. And how modifying the lines to colored rain will make total sense.
Born and raised in Mexico City, Mary Carmen has been passionate about the culinary arts all her life. She began decorating cakes for her family and from that moment she fell in love with this form of expression. Now Chef Mary Carmen Gonzalez is the owner and head instructor of Young Chef's Academy and MCG Cake Design in San Antonio, Texas.
For the past 9 years, she has worked for Satin Fine Foods as an ambassador for their products, giving demonstrations in the United States, Mexico, and Central and South America, which has led her to be part of a select group of artists called "Artists of Excellence". She has also been a member of International Cake Exploration Societe (ICES) since 2008.
Mary Carmen Gonzalez is a proud member The Food Artist Group, an internationally acclaimed group of celebrity food artists who strive to bring beauty to the world through their love of food carving, sculpting and decorating.
In October of 2016, Mary Carmen Gonzalez was invited as a main stage demonstrator, artist, and head judge in the event "Cake and Bake Masters" in Mexico City. For the competition, on the 13th of October she was presented with a certificate of trajectory and experience in the cake world from the mayor of Mexico City himself.
24