Arcadia are a recycling venture based in Bristol UK; they build a huge structure entirely from recycled metal known affectionately as the 'Spider' and cart it (in pieces and build) around the world and festivals where it spectacularly hosts loud music dj's and breathes massive gouts of fire. My friend and I are huge fans and have worked and volunteered on Arcadia frequently so when he asked for a Spider cake for his birthday… I pulled out all the stops.
The internal structure is made from recycled materials covered with various fondant, modelling chocolate and gumpaste; the engineering required was way past my capabilities but I got it to work any way! It took weeks but the look on his face was worth every second.
Cake was chocolate mud cake (GF version holds shape well for carving as GF cake generally has a tendency to be crumbly); smbc; dark choc ganache, fondant, gumpaste flames. The cake was slid under the framework which was separate.
If I did anything like this again, I would be more creative and less verbatim.
Word of warning; Black airbrush paint turns green or red… had to mix colours to get anything like black!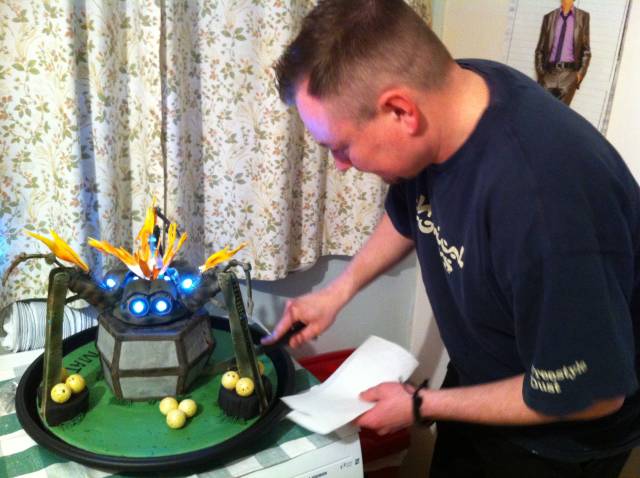 (When I get my website up and running I have a tutorial on how I made this cake…)
(And yes that IS Cliff on the calendar behind him… he wont be happy I left that in!!!)
Incidentally glutenfree cakage...