Cake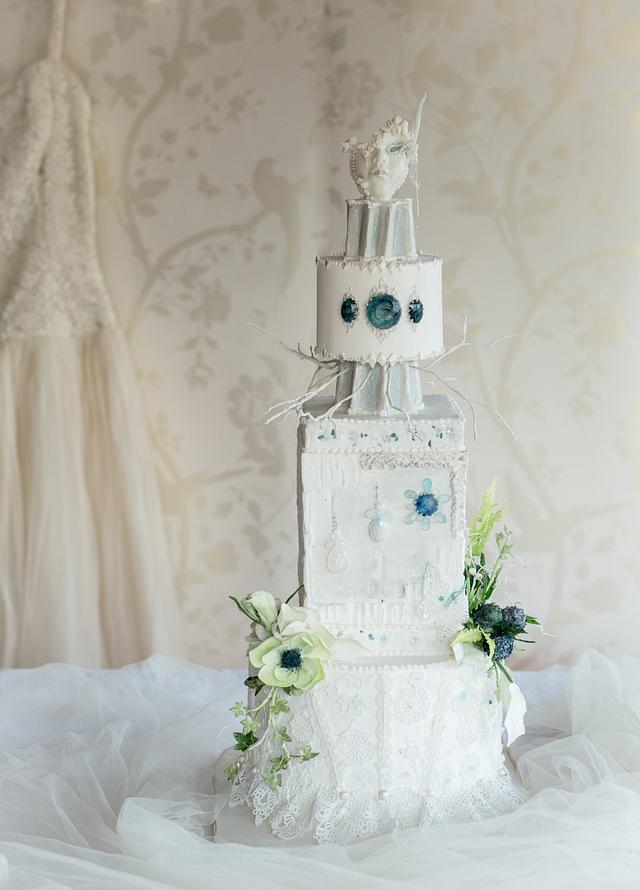 Cool as Ice - Winter Wedding Cake
What an honour to be invited to design a mainly white cake for Cake Central Magazine (li'l ol' me!) and even more so to be featured in the 'Cool as Ice' section of the White Christmas Wedding cakes. What a great experience, I loved every minute of it. The two photos in the gallery here are published in Volume 7 Issue 5. Hooray! Watch this space for more on this subject! This is the link to the Magazine: http://cakecentralmagazine.com/volume-7-issue-5/ This cake consists of three boozy fruit cakes which were then used for the family christmas cakes! Everything hand made.
Working from this Snow Queen photograph supplied as inspiration, this is the cake I came up with. More on this in due course. This collage simply includes the inspiration photo and some zoomed in areas of the photos in the gallery.
The beautiful photography was taken by the super talented Nicky Pascoe of Jim Pascoe Photography (check out their awesome website! http://jimpascoephotography.zenfolio.com/)
Thank you for looking!
Fiona
I will be away until January, so I won't be able to check in much after tomorrow but will catch up with you all on my return!
Merry Christmas everyone!
xx
boozy fruit cake marzipan edible lace isomalt home made modelling chocolate home made cold porcelain royal icing royal icing piping cake boards ribbon rolling pin paint brushes pallete knife snow queen white christmas christmas wedding cake cake central magazine volume 7 issue 5 rococo style bridal masquerade mask
52