Cake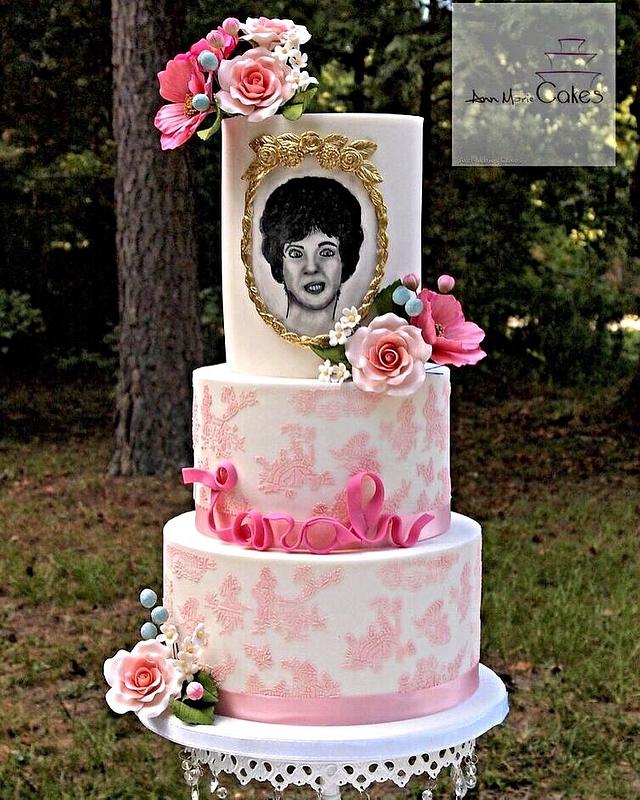 Carol
Carol
By Ann-Marie Youngblood
Ann-Maries Cakes
My cake was named Carol. Carol is my mother-in-law and the inspiration for my piece for this
Collaboration. I am blessed to have had a mother-in-law who was kind and generous. She was like a
second mother to me.
Carol as a young mother developed breast cancer. She is a strong willed lady. She fought breast cancer twice and won both times. Carol will always and forever be my Heroine. I am sad to say we lost Carol to lung cancer this past August. I found making her cake difficult and actually changed the design
numerous times. It did help me morn her loss and come to appreciate her strength and wisdom in a new way. She will never be forgotten.
My piece has many shades of pink, Carol's best color. I attempted to paint her portrait, not an exact
likeness .I actually cried while painting it and ruined the original. I used toilette, it reminds me a pattern on a chair she had in her bedroom .I made roses, brunia berries, pulled flowers, cosmos, buds and
leaves. Her name is the ribbon on the second tier incorporating the Go Pink for the Cure logo ribbon a twist.
Thanks to Shannon for allowing me to be a part of such an Amazing Collaboration at a difficult time in my life.
Thank you to Satin Ice for their sponsorship and Amazing products💗
gumpaste fondant petal dusts gold leaf stencil paint brushes rolling pin royal icing breast cancer pink sugar flowers ribbon portrait toile
22