This is the piece I, Adela, presented for Cake Con International which is a collaboration featuring 22 amazing artists who have created sugar art inspired by tv series, comics & video game characters.
Durotan is a 2 layer cake with a RKT topper. For the first layer I have covered the cake in black so it acts as a base to enhance the logo of the comic I ́have been inspired in, "World of Warcraft". The second layer is a 6" by 6" with a 120 degree wedge cut out in which I represented a scene of the story of Durotan ́s childhood where he had to fight against a pack of wolves in the middle of the woods. On the top of the cake I have carved in RKT the bust of the main character, Durotan, wearing his wolf fur over him and all the back of the cake, as a reminder of the slaughter he carried out years ago. I hope you like it :):)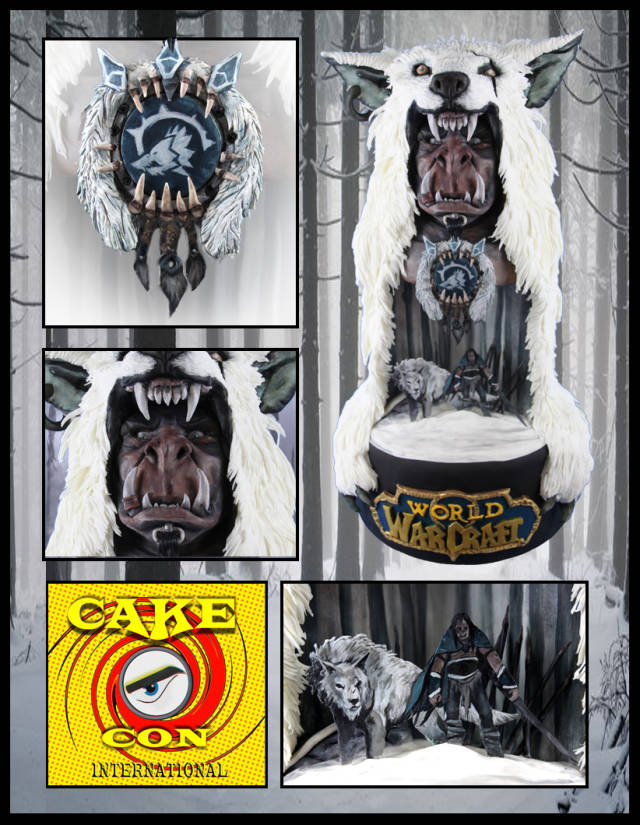 Pop on over to : https://www.facebook.com/cakeconinternational/?fref=ts
to see amazing works of sugar art!!
Thank you Mayra and Cassandra for including me in your collaboration!
Here is a link to the episode I was inspired by.
https://mail.google.com/mail/u/1/#search/comicon+adela/1548c518acd093ec?projector=1