Cake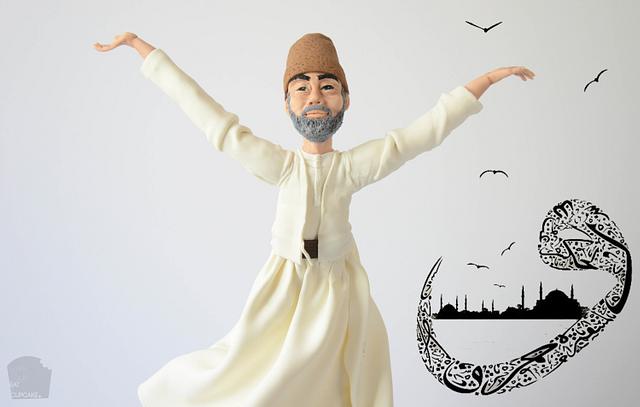 The whirling dervish - Sufi dancer
During my recent trip to the beautiful city of Istanbul, I had the opportunity to watch the mesmerising Sufi ceremony of The Whirling Dervishes – Sema.
'The Sema represents a mystical journey of man's spiritual ascent through mind and love towards perfection. The follower grows through love, deserts his ego, finds the truth and returns from this spiritual journey as a man who has reached maturity and a greater perfection, so as to love and to be of service to the whole of the universe.'
My love for Rumi and the chance to watch this ceremony inspired me to create this sugar piece which depicts a whirling dervish in between his prayer.
The recent terror attacks that shook Istanbul has been so tragic. To see a city and its people, so immersed in culture and spirituality, being attacked and brought to it's knees is truly heart wrenching.
On that note, here's something that comes to my mind from the book 'The Forty Rules of Love' :
"In many ways, the twenty first century is not that different from the thirteenth century. Both will be recorded in history as times of unprecedented religious clashes, cultural misunderstandings, and a general sense of insecurity and fear of the Other. At times like these, the need for love is greater than ever"
‪#‎PrayforIstanbul‬
saracino pasta model cerart modelling tools cerart silicone shapers sufi istanbul hand made no mold dancer figurine sugar saracino
5