Jenny Kennedy Jenny's Haute Cakes
posted
almost 7 years ago
Myths and Legends Quetzalcoatl
Advertisement
Advertisement
Myths and Legends Quetzalcoatl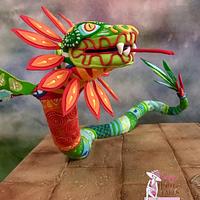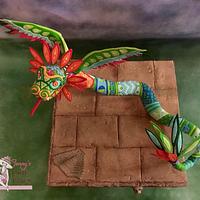 expand all pictures
Advertisement
Advertisement
The legend of Quetzalcoatl is a mesoamerican myth about a feathered serpent. The story originated over 2000 years ago and has been handed down from culture to culture in Mexico, including this version made famous by the Aztecs of Mexico. A temple to Quetzalcoatl was built by the Mayans at Chichen Itza in Mexico and is considered one of the new Seven Wonders of the Ancient World.
I created my version of Quetzalcoatl in the Mexican folk art style of brightly painted wood carvings called "alebrije".
The board mimics the pyramid to Quetzalcoatl, and the bas relief carvings are taken straight from the designs on the side of the pyramid.
You can see all the beautiful myths and legends in this collaboration at https://www.facebook.com/MythsandLegendsCollaboration/
Jenny, Castle Rock, CO www.facebook.com/JennysHauteCakes