Switzerland is a country of several languages so it is not surprising there are several different St. Nicholas traditions.
The tradition of Samichlaus and his "sidekick" Schmutzli:
On the eve of St. Nicholas Day (the Holy Bishop) the two emerge from their cottage deep in the wood to visit Swiss children. Samichlaus visits every family on December 6th by knocking on the door; unlike the Santa Claus that enters by chimney. Once inside he gives a behavior report to each child. After receiving their report, every child can try to improve their standing with Santa by reciting a Christmas or Santa related poem. A good report and a good poem will get a child a big handful of treats; a bad report …well that's where his assistant Schmutzli comes in —>
In legend, Schmutzli, also known as the "Whipping Father", carries a bundle of branches (a birch broom) to punish the bad children then he scoops them up and stuffs them in his sack! Best to be good all year long!
This legend has changed through the years, Schmutzli has become more of an assistant to Santa, but it's said children still know what the birch broom is for.
Good children are rewarded with gifts of mandarin oranges, peanuts,and gingerbreads on plates by their homes front door or jute bags.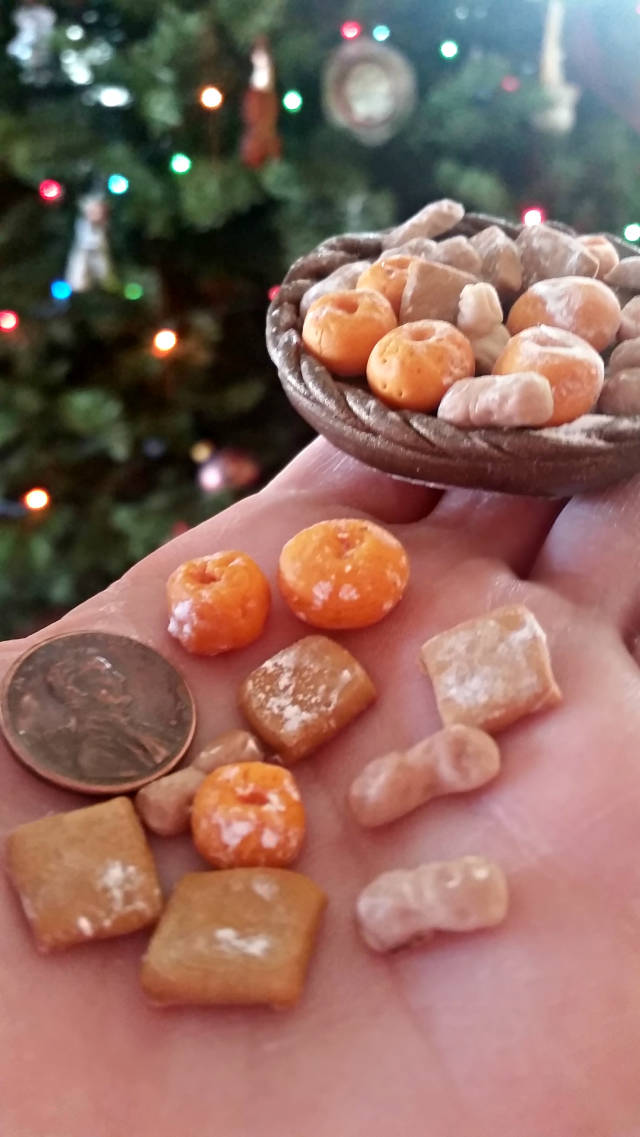 Merry Christmas! And thank you to Heba for inviting me to collaborate. What a treat!! Speaking of I hope ALL OF YOU get Mandarins, Peanuts, and Gingerbreads…not splinters ;)
Be sure to visit Santa's Passport https://m.facebook.com/santaspassport2015/
The backdrop is a hand-painted icing sheet, I used a mixture of edible powder colors with with vodka. The figures are gingerbread covered with fondant with an icing sheet applique, cut to fit, that I hand-painted as well. The tiny foods, basket, and house covering are created with modelling chocolate.
Premium Icing SHeets and Wafer Paper: Icing Images
Fondant: Satin Ice
Edible powder colors: TheSugarArt, Rolkem, TRUcolor
sources:
https://www.youtube.com/watch?v=GW—OM_pj1s
http://traveltips.usatoday.com/people-speak-switzerland-109…
http://ahumorousguidetoswitzerland.blogspot.com/…/customs-a…
http://www.swissinfo.ch/…/schmutzli—the-swiss-sant…/7082046
http://www.newlyswissed.com/learn-how-swiss-santa-works/
http://www.stnicholascenter.org/pages/switzerland/