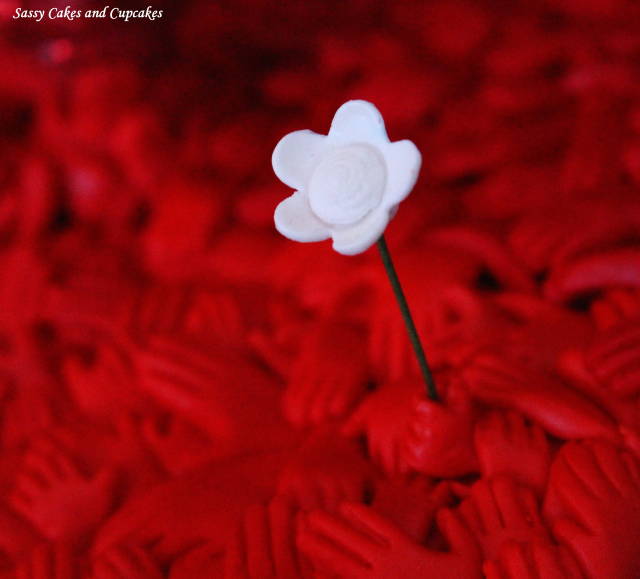 What a true honour to be a part of Team Red. Over 170 cake artists from around the world united under the amazing leadership of Zawadi Parizek. She was the mastermind behind this group and a brilliant one at that. Please be sure to check out our page: https://www.facebook.com/BeTeamRed/
I was inspired on a recent trip by a sculpture I came across in Lake Como, Italy. The sculpture was of a red heavily pregnant torso planted in a grotto surrounded by trickling water, green ferns and darkness. The sculpture for me personified the darkness of this issue, but also a feeling of hope. I wanted to capture the strong emotions I felt when I saw this sculpture with my piece, so that it is about light where there is dark, life where there is death, hope where there is devastation.
Cake specs: Red coloured cake scuplted into body shape with candy melts and white chocolate then textured and used lustre dust/edible glitter to add a luminous glow. Head is polystyrene ball with fondant flowers to represent hope and purity. Pregnant tummy is isomalt with a light inside to represent new life and hope. Hundreds of small constructed red fondant hands for the cake board representing the tragic deaths from HIV, they are reaching out to this figure of life and hope. One small childs hand holds a single white flower – again a symbol of life and hope. This piece was a very emotional experience for me as I was also undergoing a personal trauma at the same time, so my heart and soul is poured into this creation.
You can also do something to help this worthy cause by (1) sharing our page, (2) contributing to The Global Fund to support their war on HIV/AIDS , TB, and Malaria in countries in need or (3) purchase a spunky World Aids Day red tshirt members of the collab proudly wear. The links are below:
GoFundMe: https://www.gofundme.com/beteamred
BonfireFund T Shirts: https://www.bonfirefunds.com/unsa-beteamred