http://www.threadcakes.com/entries/view/1959 << please follow and favorite <3
Challenged by my schugar sister Reva from Merci Beaucoup I've always just been a lookie-loo at the competition and never felt strong enough to participate. This really put my thinker to the test, I don't get to make larger structure cakes often so I was pretty happy to pull out the tool chest!
My idea was to make the clouds appear suspended above the board drapes in "tee shirt material"…it worked. I post a pic in a few.
The clouds are cake, there is a slice of caramelized banana in each "pillow puff". The layers are filled with Swiss Meringue and dulce de leche. The internal structure is treated with DECOgel
Watch it here: https://www.facebook.com/IcingImages/videos/10153335804811378/?permPage=1
The Zombie head is rice cereal treats, and modelling chocolate. And same for the dolphin. One very unique method I finally got to try was carving the teeth from peanuts. I've seen food & pumpkin carvers do this and recently a fellow caker from #SugarSpooks did the same. Pretty cool and realistically creepy! The rainbow's structure is pvc board and wooden dowels, the modelling chocolate worked perfectly for it's set up. LOVE THE HAIR? I have a tutorial for sale featuring 6 ways to create, use this code upon checkout for $1.00 off IHEARTWAFER
All of the details are hand-painted, no airbrush for this gal.

And everything is tinted with #RolkemLumos so she glows under a blacklight.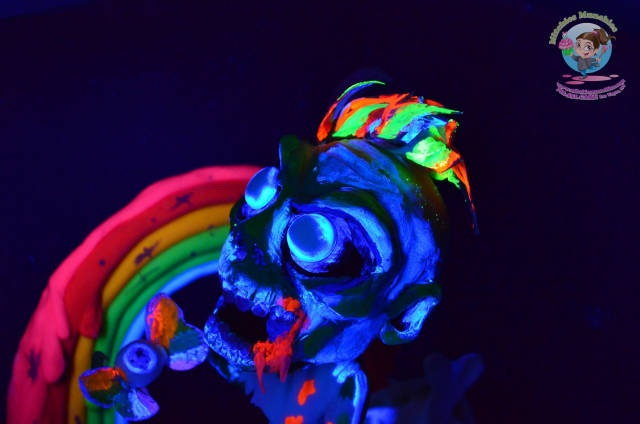 She's cut :( sad Mitchie

Thank you for looking!