ChristopherJames
posted
about 8 years ago
Alf Hitchcock -Psycho Birthday Cake!
Advertisement
Advertisement
Alf Hitchcock -Psycho Birthday Cake!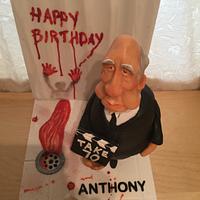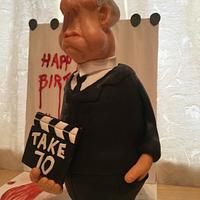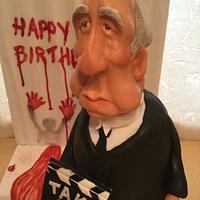 expand all pictures
Advertisement
Advertisement
Anthony Hitchcock is 70 tomorrow, his best pal of sixty years, Keith saw my Halloween cake of Frank and asked if I could do Alfred Hitchcock and Psycho. When I enquired what was it for he explained he had given poor Anthony the nickname 'Alf' decades ago and even to this day everyone knows him as 'Alf', most not knowing his real name! This good humoured 72 year old commissioned this caricature cake to have another laugh at Anthony's expense for a small gathering of old pals for his birthday celebration ! Keith loves it and assures me that 'Alf' will too! Fingers crossed :o)
The cake is 15" tall, the body is shaped 6" ganached chocolate cake with chocolate buttercream filling. The legs RKT. All tailored in fondant with a modelling chocolate hand crafted head. The shower curtain is fondant the base modelling paste. Painting and dusting in edible colours.
Cake #3