Sorry! I have been MIA on CD for a few weeks. I have had revolving colds/fevers with my kiddos for almost two months, plus a few projects so I just found it hard to juggle it all. Finally I have a few weeks with no projects due so am back again, admiring all your brilliant cakes and thought I'd share a few done during that time…
This is my 3D gravity-defying Lego Ninjago cake for Ramsey…
Those that know me, know that I try to avoid 3D or gravity-defying cakes whenever possible. If I do them, it is not without a TON of fretting and stressing lol. Well, I couldn't say "no" to Ramsey's parents as they have been long-standing and amazing clients over the years so I enthusiastically said "SURE!" even though inside I was dreading the stress.
I thought long and hard about how I wanted to do the structure. Everyone has seen tons of pics of different types of internal hardware or PVC piping that can be used but most of them had just one central rod or had one from the waist portion up. It had to travel 40 mins so I did not want to do just one central metal rod into the main board. I wanted at least two points locking down to the board. Well, long story short, I went a different route than anything I'd seen done before. I posted progress pics on my FB page in an Album here – http://bit.ly/3DLegoNinjagoAlbum and explain more about the progress on my blog in the post here – http://bit.ly/3DLegoNinjagoCake. Here is just one of the slides from the pictorial: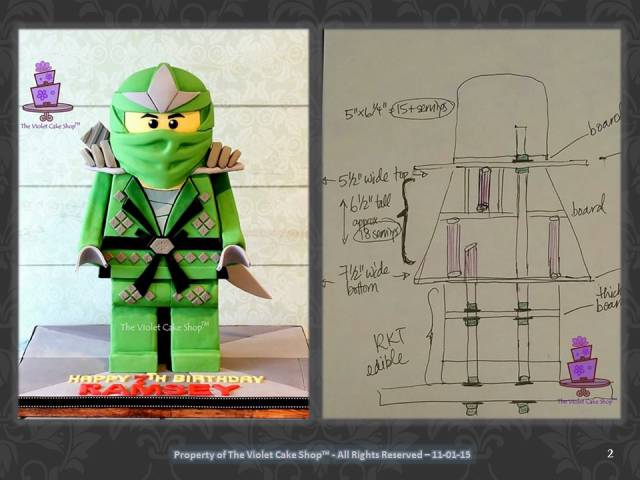 And this was one of the inspiration pics I used although I also used my son's actual toy haha!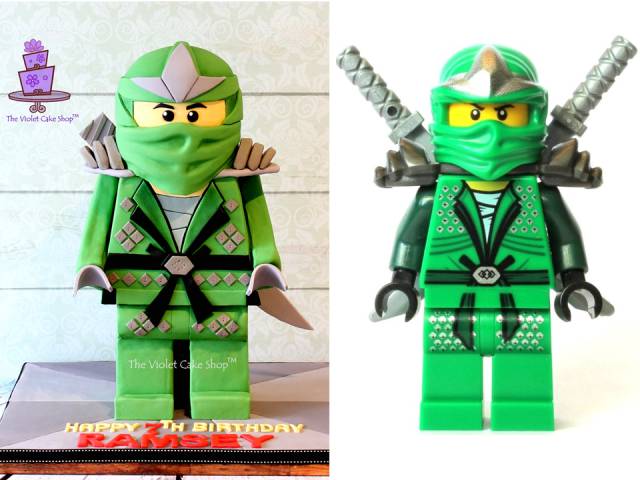 In the end, I enjoyed this one as it helped build my confidence and I can now say I will definitely be less stressed doing them in the future.
TFL – Violet =D