Cake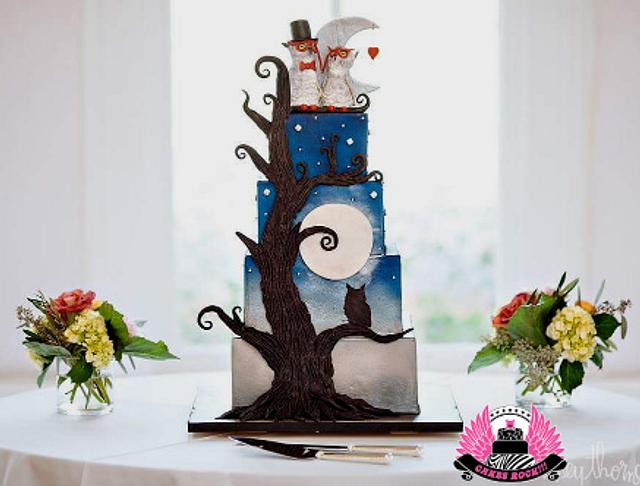 Halloween Owls Wedding
I have always been known for crazy, non-traditional wedding cakes, & this is the latest addition to the collection! This Halloween version was definitely fun & original! Instead of 'spooky Halloween', the bride & groom went 'whimsical Halloween' by asking me to bring to life the adorable owls the mother of the groom designed herself for their save the date cards & invitations.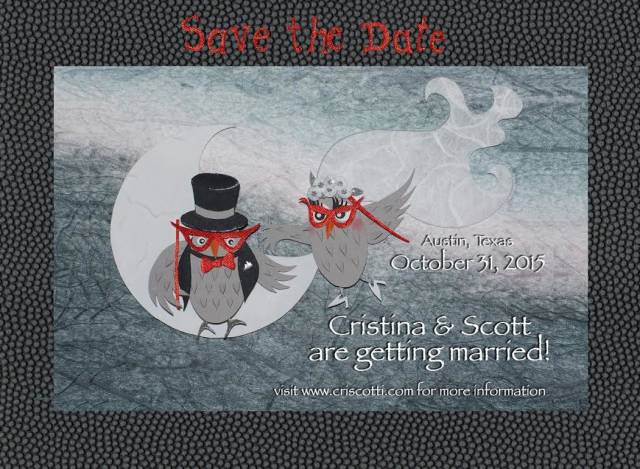 They wanted a big tree silhouetted against a dark blue sky fading into a gray ground, with the owls sitting on top. Owls are sculpted from modeling chocolate. I used over 4 pounds of modeling chocolate to create the tree climbing up nearly 30 inches of cake! This cake was a unique challenge in that it had to be completely stacked before the decor could go on, so moving the big heavy cake around to decorate it was interesting, & quite a workout.
I airbrushed the background in gradations of navy blue, fading into the silvery-black ground, which I achieved by custom mixing silver & black airbrush colors. The moon was cut from fondant & dusted with metallic silver dust to give it a sheen & the 'ring' around it where it's shining. Then I started placing rolls of the white chocolate onto the cake & carving the detail into it with sculpting tools. The tree is kind of a cross between the Johnny Depp movie version of Sleepy Hollow & The Nightmare Before Christmas, as we wanted it to be more whimsical than spooky, but I DO love that Sleepy Hollow tree, so I had to allude to it!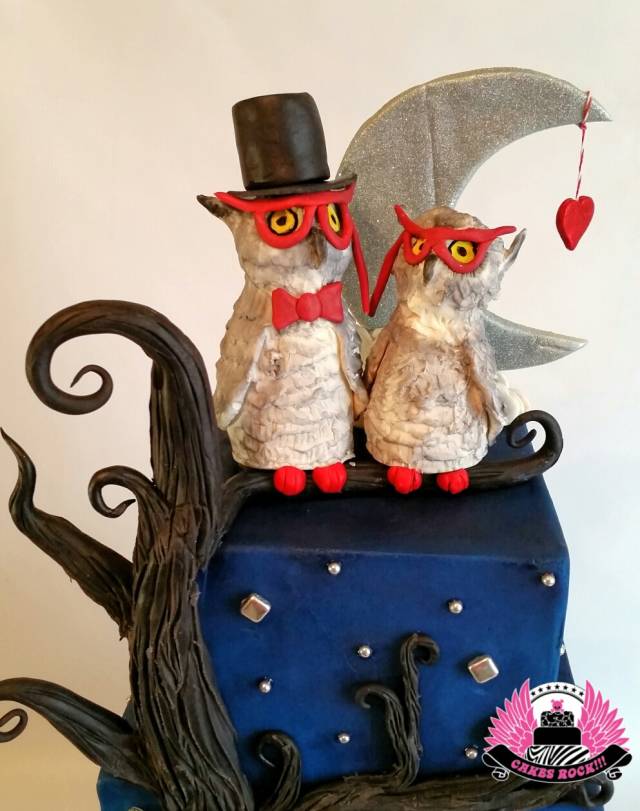 The glittery moon topper is gumpaste & the cute dangling heart is white chocolate. The only non-edible decor on the cake is the baker's string the heart is hanging from.
And talk about yummy! The bottom & top tiers were my signature Red Velvet with Almond Amaretto filling. The second tier up was Dark chocolate with White chocolate strawberry buttercream filling. And the third tier up was an unusual combination specifically requested by the groom—-a Pumpkin Cardamom Spice cake, filled with fudge sprinkled with coarse sea salt. Oh, it was so yummy! (Yes, cake scraps were harmed!)
owls halloween halloween wedding cake cute wedding austin wedding texas wedding austin cake atx wedding atx christy seguin cakes rock austin texas owl moon
26