Cake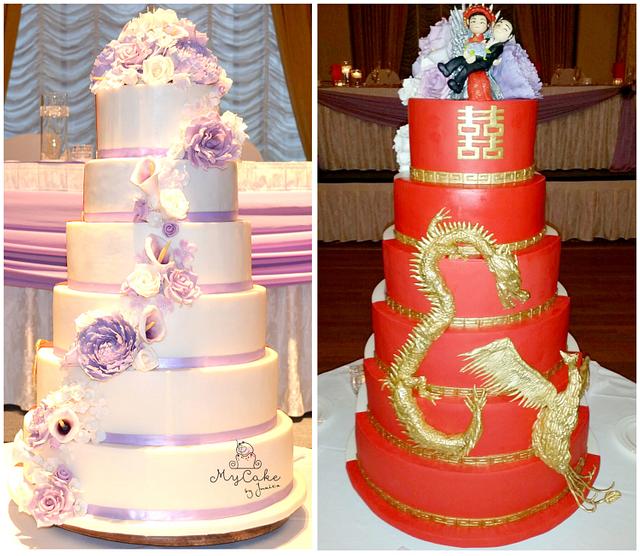 Dual Wedding Cake Eastern meet Western
This is my officially first wedding cake ever!! :)
I was super nervous, making this for my husband college. At first I thought it will be just 2-3 tier cake apparently he wants 5 tier cake, but his wife wants 6th tier cake… I was like o my gosh…
it took about 3 extreme weeks of labor, but finally it is done.
this is kinda unique and special request he wants dual cake, because they are
changing dress/suit in the middle of ceremony that's why he wants east meet west kinda thing.
haha… i was quite nervous and didn't really sleep since I never make dragon let alone "chinese dragon" and "chinese phoenix traditional" he doesn't want the western looks dragon apparently they are a bit different in appearance, also he is a huge fans of game of thrones so
he wants to make a surprise for his wife for the game of thrones with him sitting on his wife lap.
(that's the only secret that he kept from his wife about the cake)
after all it is quite a crazy experience making this giant cake since I never made more than 3 tier cake. and also my first time making calla lilly flower :) it is exhausting and drive me crazy at the same time but also I was so happy that everything went good even the set up :)
the worst part i forgot to bring my nikon camera haha, so pretty much this is pictures from my cellphone :)
https://www.facebook.com/MyCake-by-Junita-249537255231663/timeline/
dragon dragon cake chinese dragon phoenix peony roses hydrangea calla lily wedding cake red white chinese theme gold traditional wedding cake
10