Cake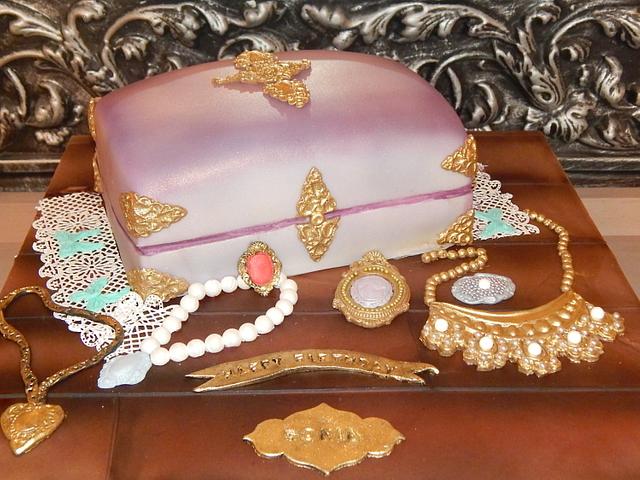 Jewellery Box Cake
There are 2 versions of this cake the first pics and last pic are of the original design commissioned for a customer based in london who found me on Instagram!! she was coming from manchester for the weekend with friends and needed a 'girly' cake.
I airbrished with a violet paste colour and vodka, which I was happy worked!! then finished it with a gold shimmer to give an opal effect.
The slightly darker pics are the of the Cake I entered at "Cake International in Manchester 2015"
I noticed a facebook post…. had a week to decide what I needed to do…crazy or brave not sure which one.. but so glad I did!! I added isomalt jewels and a Peony Rose for the competition piece. I was awarded a Certificate of Merit and it was the best experience ever!!
Im hoping to enter Birmingham in November and I intend to plan a little better..hehehe x
sugarpaste airbrushed gold dust isomalt gumpaste gold spray paste colours cakelace silicone moulds cameo moulds pearl mould jewellery box cake cake international manchester 2015 violet airbrushing gold dust gold shimmer silver dragees silver dust pearls white edible pearls jewellery jewels isomalt sugar glass ruby emerald vintage cake cakelace
5