Cake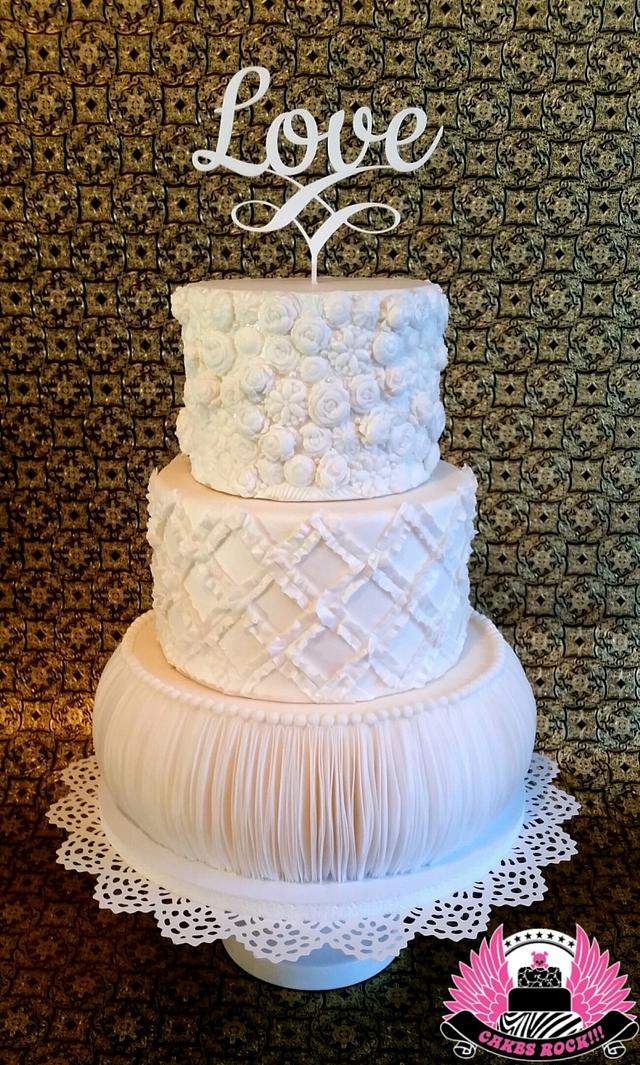 Textures in White
This is a display cake that I created to showcase some wonderful techniques that I learned in Jessica Harris' amazing Craftsy class. It's all dummy cakes, so no yummy flavors this time!
That bottom tier is a 10" round, & it took me & one of my Cake Minions 4 hours each working together to finish 3/4 of it, & then I spent another 3 hours finishing the rest by myself. There are over 400 individually cut & placed wafer paper pieces on that tier! The effect is awesome, but it may be the most time-consuming tier I've ever done.
The middle tier is ribbons of fondant in a quilted pattern. I'm in LOVE with this look! One of my brides saw the preview pic & changed her wedding cake to this pattern—-I was so excited!
The top tier is a bas relief solidly covered in various rose & brooch molds. It's such a gorgeous texture with intricate detail when viewed closely. I highlighted the top 2 tiers with airbrushed pearl white to bring out the detail.
jessica harris cragtsy texture white bridal wedding cake wedding austin texas cakes rock atx austin wedding
23