Cake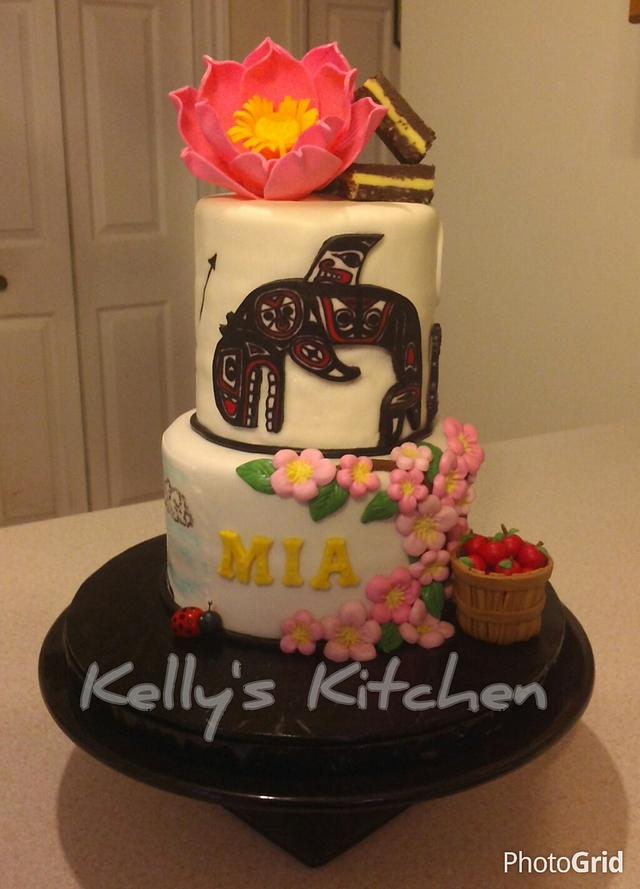 Farewell Mia
I made this cake for a member of our soccer team who is moving to British Columbia at the end of the month. We had a little get together for her after our practice Thursday night & she had no idea I was doing the cake so it was awesome to see her reaction to it.
The bottom tier is all things Nova Scotia, apple blossoms & the apple basket to represent the Annapolis Valley (where we live), the lighthouse at Peggy's Cove which is an iconic Canadian landmark & one if the busiest tourist attractions in NS & then Paddy's Pub Brew Crew which is the local pub that sponsors our team, hence the soccer balls under it. I also included a lady bug along the base as a symbol of good luck.
The top tier is to represent British Columbia. I wanted the Haida orca to be front & center because Haida art is a big part of BC & orcas are strongly associated with the west coast & I was really happy with how it turned out :-) I included two First Nations symbols, the arrow which means protection (so she & her husband have a safe trip across the country) & the sun which means growth (for the new chapter in their life). Splendor sine occasu (splendor without diminishment) is BC's motto. The mountain scene is to represent the rockies & the Nanaimo bars on top as Nanaimo is where they are moving. Finally I included the lotus flower on top as yoga is a big part of who Mia is.
I used the Wilton nature mold to make the apple blossoms, branches & leaves. The apple basket, apples & lady bug were all made from fondant. The orca, lighthouse, mountain scene, symbols & motto were all done with edible markers. The lotus flower is the first one I have made following instructions from the Craftsy class Cakes in Vivid Color by the very talented Violet.
The top tier is vanilla bean cake with vanilla buttercream & the bottom tier is cocoa banana cake with chocolate buttercream.
haida art orca apple apple blossoms kelly's kitchen lotus flower
6