A Collaboration with Glitz, Glam and a little bit of Ethinicity..
"44 talented cake artists from across the globe have come together to celebrate the beautiful and sophisticated designs of Indian fashion. Each artist created a cake inspired by a haute couture Indian outfit that is typically worn for elegant occasions. One can see how these outfits can easily translate into a gorgeous cake design with their rich colors and intricate decorations.
You can view all the gorgeous creations at: https://www.facebook.com/ElegantIndianFashionCakes

My piece…… MAYA
Maya is a feminine name with multiple meanings. I loved the meaning of " ILLUSION " ( which came from Hindu philosophy)
As her name suggests my Maya is quite a QUEEN of ILLUSION…. a Swan? couple of petals? Part of the Opera house or just an Ordinary Oval shaped or is it a Paisley shaped? cake…depends on which angle you look at her. Unique in her own right. She was inspired by a pretty and intricate Indian fashion piece, the photo of which I was provided with.

I was so proud to be involved in this collaboration because the inspirations for all the gorgeous and classy cakes created by such talented and wonderful cake artists around the world was based on Indian fashion cultural attires which I so loved to wear and part of my heritage. It was like I was in magical cake fashion world …. Oooohhhing and Aaahhing over each inspiration and then to see such stunning creations of cake being churned out of such inspiration was a total 7th heaven for me.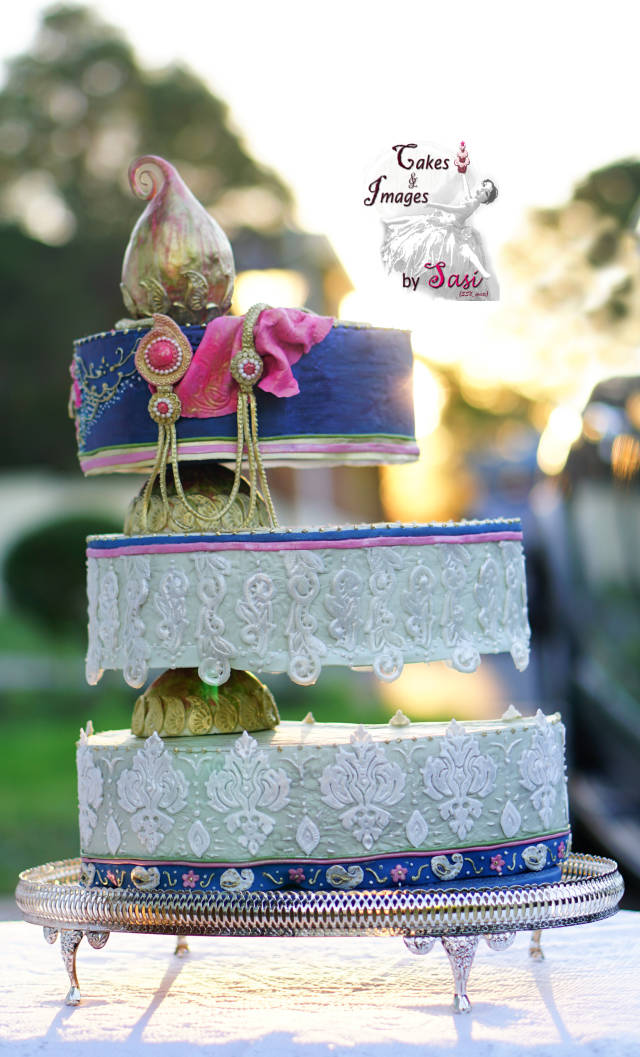 I usually used to make my own icing but this time decided to try out "Satin Ice" (http://www.satinice.com/ )since I have heard so many awesome reviews about it. I found it such a wonderful medium to use , so pliable, so easy and it had such lovely taste and colours too… So no more time and energy wasted making fondant from now on. Thank you Satin Ice for making my life easier and it was a big added bonus when you so generously sponsored the fondant used for this creation:-).
Thank you so much dear friend Candace Chand for creating and coordinating such an elegant, beautiful and talented cake community collaboration and inviting me to be part of it … It was such an honour. Thank you so much to all the wonderfully talented cake artists involved for all the selfless support & help and making it such a memorable collaboration.
Sorry that my writeups always end up being so lengthy. Thank you so much for all the support you have extended to me so far.