Cake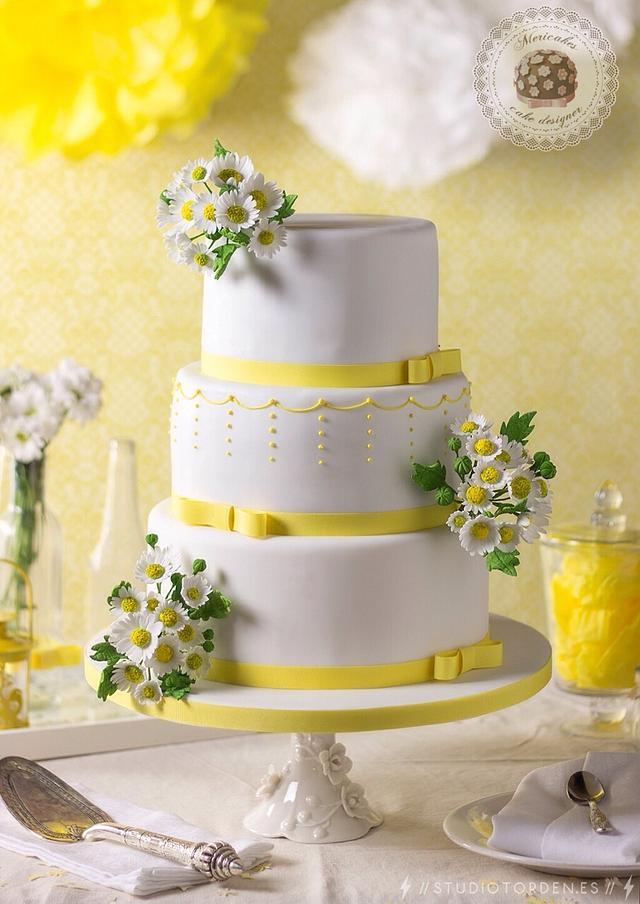 Sweet Daisy blooms Wedding cake
Our last wedding cake is a new version of Sweet Daisy wedding cake. When we had the first meeting with the bride and groom, were clear that they wanted a fresh and cheerful design for their wedding, which was held on the beach.
So to see our portfolio, fell in love with our margaritas!
 
For this occasion we made small bouquets of daisies with births and leaves to give a much more natural and realistic look to the flowers.
We completed the design with a wreath of lemon royal icing to decorate the intermediate floor and adds a classic touch.
 
 
Inside is; Moist and fluffy vanilla cake with cocoa (Red Velvet) filled with lemon cream Swiss fresh berries macerated into a Cosmopolitan cocktail, our flagship flavor for wedding cakes!
All decoration is handmade in fondant and royal icing and is entirely edible.
Again, we had the pleasure of working with the wonderful team Torden Studio has been commissioned photography. And again we have been delighted with their work.
Carlos thank you very much for letting us participate in your day, it was a pleasure !!
cake daisy sugarflowers weddingcake wedding boda margaritas mericakes royal icing barcelona sugarcraft bridal yellow blooms flowers
28