Cake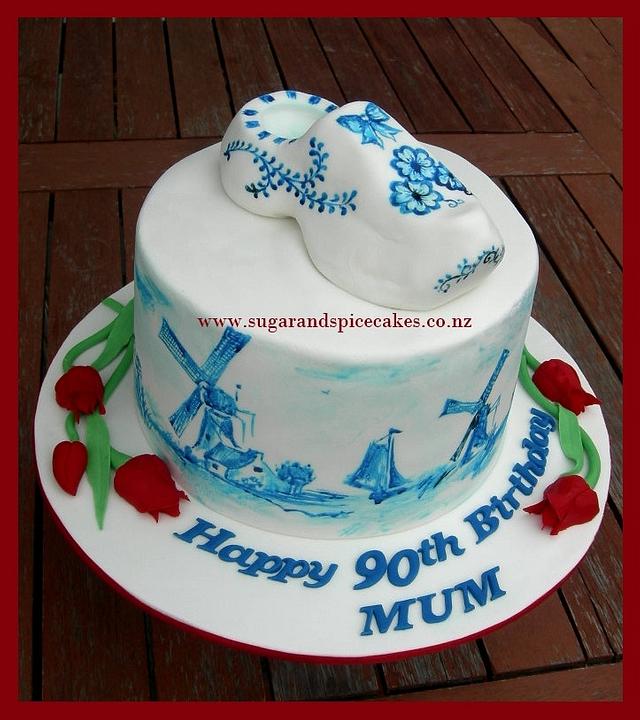 Going Dutch - Hand painted Delft Pottery Cake
Going Dutch – Hand painted Delft Pottery Cake
This is a special cake for a lovely Dutch lady celebrating her 90th birthday. It is hand painted freehand and represents the blue paintings on the Delft pottery. The Clog (traditional Dutch shoe) is a very symbolic of Dutch people and their culture.
I love painting and when I was asked to do this cake I just said yes without thinking too much about it. I told the customer I had never painted on a cake before but she thought I could do it! I have made 4 cakes for this customer. But when it came time to paint – I was frozen!! I just didn't know where to start. Scene painting was never my forte – I would much rather draw the female form! I kept looking at photos and paintings of windmills and just felt overwhelmed and wondered what I was thinking when I said yes!!! But once I put that brush to the fondant – I started enjoying it so much and was done in an hour! I am happy with the result and so was the customer who got the cake for her mother-in-law!
Oh…and I forgot to tell you about the Tulips which I had never done before and had no idea how to do…I finally figured them out and have cut each in half as they seemed to hide the painting…
Thanks for looking!
dutch cake dutch dutch clogs delft pottery delft painting dutch pottery holland clogs windmills painted windmills painted cake cakes auckland birthday cakes auckland
28