Cake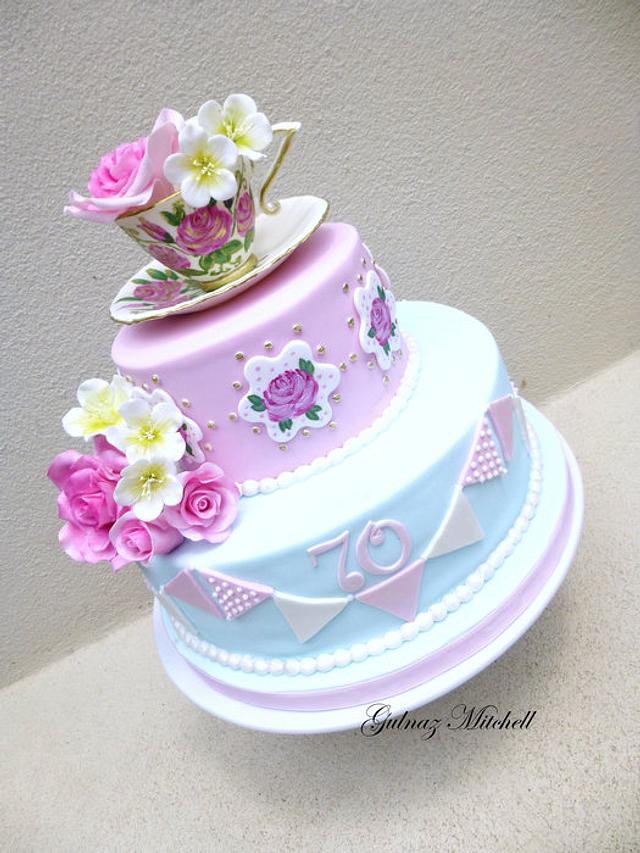 English High Tea cake "Lorraine" with gumpaste Cup and Saucer
This is my first cake in 2014!
I started working on it, of course, last year! Lol! This is my second free hand painted cake with a handmade gumpaste cup and saucer. This time I didn't have a real cup to "copy", so I just used my imagination to paint the cup and saucer.
One of my friend's asked me to make a cake for her mother-in-law's 70th birthday which was on the 1st of January. I couldn't say no! This was a somewhat inconvenient time of year because I also had my other friend and her son visiting us for a few days. I thought I could manage it while I also entertained my friends, showing them around and spending time with them. After everybody went to sleep at night I worked on the cake for two days until 2.30 AM and slept only 4-5 hours, because my kids are early birds!
I was very happy with the result! But I had a disaster with my "photo shoot". I had only 10 minutes before the cake had to be picked up, so I had to make quick photos. Then I discovered that my camera battery was flat! Ops!!! So I had a few minutes to charge my camera and take whatever photos I would able to make until my camera completely "died"! I also had my favourite outside spot to take photos, but it was such a sunny day it was hard to take good photos! Anyway, I am very happy with my cake and happy that I could take a few good photos.
I hope you will like them too!
Happy New Year everyone!
Gulnaz
anniversary bar mitzvah easter first communion thanksgiving birthday engagement mothers day valentine christmas retirement wedding gold pink blue white cake chocolate
59