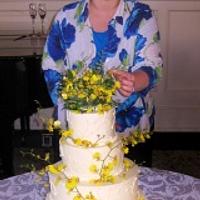 Nancys Fancys Cakes & Catering (Nancy Goolsby)
posted over 9 years ago
Tiered birthday cakes #2: Wizard of Oz Buttercream creation.
100% buttercream 2-tiered Wiz of Oz cake theme for March of Dimes benefit.
Frost top and bottom tiers in buttercream. On top tier add 2-tones of blue for sky effect and smooth in leaving variations of colors… Outline w/ tooth pick shape for hot air balloon . Out line w/ red #4 and white & red for fill in balloon #5 and black for basket #4. Smooth balloon w/ finger tip dipped in warm water, and then out line again in red #4.
Put #5 piped white clouds around top tier.
Red poppies are #103 tip in double layer petals and grass tip in black for centers. Also around edges for greenery, I used #4 in 2-tone around flowers. I piped directly on cake.
Bottom tier I put patches of emerald green BC and blended in until smooth, and leaving variations of colors is fine in green.
I out lined yellow brick road, filled in w/ #12 tip and smoothed w/ small spatula dipped in water. I marked across brick lines w/ spatula, and used toothpick for variation of brick pattern. I then outlined bricks w/ #3 white buttercream.
For top emerald city in BC, I cut 3 pieces of plastic about a 1/2 in. lower than where I wanted to pipe. Middle one I placed first by pushing into cake about 2/3 back on cake top. I then used pastry bag #10 w/ coupler and no tip to pip straight tubular looking shapes representing buildings of emerald city. I then placed shorter plastic piece in front and back of other pieced that is piped tubes front and back of middle plastic piece, (place plastic pieces directly in front and behind of middle piece w/ piped icing tubes).
*I did the 3 pieces for extra support, as I was afraid soft BC would not set-up and fall over.
After piping tubes, I dipped finger I warm water and smoothed tops. I used green edible glitter to sprinkle on emerald city.
At the very base of the bottom tier I piped witches feet and black feet like they has already had ruby slippers removed and curling up. #7 or #8 tip to pipe legs in white, and #4 black for strips on socks and feet.
*Notice in my set-up at event, I used figurines to enhance look for event, as I didn't have time to mold characters.
Around the base of cake at event I also made 1 dozen rainbow cupcakes frosted in blue, and rainbow sour candy ~ that I cut into (Air Heads Xtremes Sweetly sour candy). And, then bend in shape like rainbow and placed in either side.. then I piped a little white icing on either side of rainbow.
Nancy (Nancy's Fancy's Cakes & Catering)