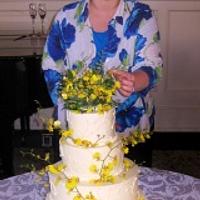 Nancys Fancys Cakes & Catering (Nancy Goolsby)
posted almost 10 years ago
Anchor, and nautical, sea related cakes #1: Anchor design w/ stripes
2-layer round cake frosted and smoothed buttercream icing. Anchor design was free handed w/ a tooth pick, but you can use a cut out pattern to use.
Outlined anchor in pink #4, then filled in in royal blue #5 or 6 tip.. then smoothed w/ finger or small spatula dipped in warm water and shake off extra before smoothing.
You may also get a small piece of paper towel, if area gets too wet or you need to absorb a drop of water on design.
use #3 or #4 tip to do message on front side of cake.
or #7 reverse royal blue top beaded boarder, and pink bottom boarder.
Use small basket weave tip (smooth side) to put pink stripes on top of cake.
Then outline anchor again in pink to define detail.
For the rope around anchor, I piped in a rope pattern #4 tip.
Nancy (Nancy's Fancy's Cakes & Catering)