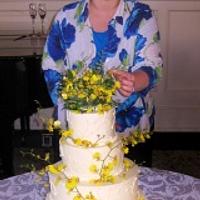 Nancys Fancys Cakes & Catering (Nancy Goolsby)
posted almost 10 years ago
Tiered birthday cakes #1: Diving and Plane themed cake w/ shark.
I frosted an 8 & 10-inch round 2-layer cakes in blue buttercream icing. I made diver, treasure chest, and shark out of fondant, and allowed to dry for several days. I placed clear cake columns through 10- in. tier to line up stacking 8-inch tier that will be placed on 9-inch cake plate. I put 10-in. cake on 12-inch cake board.
I used sugar tropical fish and buttercream icing detail for coral, and candy pebble rocks.
In between tiers I placed diver, and flippers.. so it appears he is floating on his back, off an island of tan sanding sugar. Treasure chest in between columns. Crab & turtle… I put silver and gold dragee's, and pearls made out of buttercream beads. I cut a piece of card board and covered it w/ star tip for rough board look and wrote name on board in BC.
I also used BC and star tip to cover columns to look like tree bark, and #352 leaf tip to make palm tree leaves on beach.
I place tropical sugar fish and star fish on sides of cake w/ BC coral, green foliage, and candy pebbles.
After finishing cake I put tan sanding sugar around base of 10-in. cake to mimic sand at bottom of ocean.
I piped top tier banner on front of cake, clouds and birds.
I put planes on that person ordering cake wanted me to use.. that she had.
Nancy (Nancy's Fancy's Cakes & Catering)