Buttercream Flower Bouquet Cupcakes - Roses, Peonies & Hydrangea Piping Techniques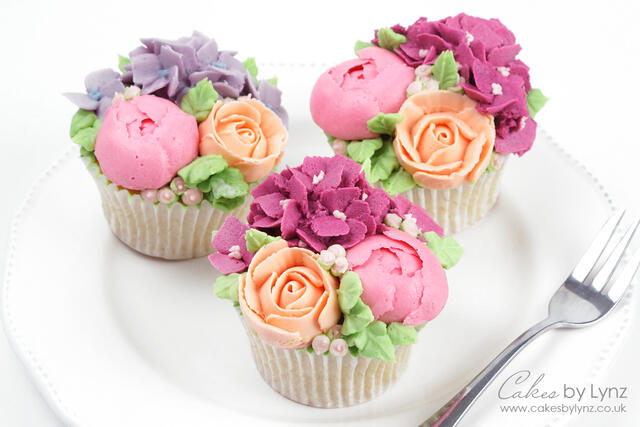 Hi and welcome back to my kitchen. This week I'm making these really pretty buttercream flower cupcakes. In this tutorial I show you how to pipe buttercream roses, buttercream peonies and buttercream hydrangeas. The cupcakes are then finished off with some buttercream leaves and little flower buds.
These would be perfect for birthday cupcakes, wedding cupcakes or for Mothers Day. Plus you can also use these piping techniques to add the flowers onto your larger cakes.
I really hope you enjoy the tutorial. Thank you so much for watching and don't forget to subscribe for more cake decorating tutorials!
★ OTHER TUTORIAL YOU MAY LIKE:
Vanilla Buttercream recipe: https://youtu.be/dPV815p1eAE​​​
Vanilla Cupcake Recipe: https://youtu.be/otifsKKutLw​​​
Fondant Flower Cupcakes: https://youtu.be/fHop2OCMal0​
Mini Rose Cupcakes: https://youtu.be/0iNWdA5Wy8s​
Russian Tip Flowers: https://youtu.be/FrMA-2a7rK4​​
FOLLOW ME HERE ↓
▫ Blog: http://www.cakesbylynz.co.uk​​​
▫ Facebook: http://www.facebook.com/cakesbylynz​​​
▫ Instagram: https://www.instagram.com/cakesbylynz/​​​
▫ Pinterest: https://www.pinterest.com/cakesbylynz/​​​
-- CakesbyLynz