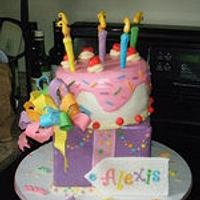 Valley Kool Cakes (well half of it~Tara)
posted almost 11 years ago
Cake recipes #2: Vegan pumpkin spice
Since my husband and I are now eating a vegan diet at home I have started to try out some vegan cakes for family gatherings. This pumpkin spice cake was a big hit and no one could tell the difference. A nice alternative to chocolate or vanilla.
Pumpkin Spice Cake
recipe by: Meredyth Hite
Ingredients:
1 cup canned pumpkin puree (NOT pumpkin pie filling)
1/3 cup canola oil
1 cup sugar
¼ cup non-dairy milk (any will do)
1 teaspoon vanilla
1 teaspoon ground ginger
1 teaspoon cinnamon
½ teaspoon nutmeg
1 ¼ cups all-purpose flour
½ teaspoon baking powder
½ teaspoon baking soda
¼ teaspoon salt
Directions:
Preheat oven to 350 degrees. Prepare muffin tin or cake pan. Set aside.
In a large mixing bowl, combine the pumpkin, oil, sugar, milk, vanilla, ginger, cinnamon, and
nutmeg. Mix well.
In a separate bowl, combine the remaining dry ingredients then add to the wet. Mix well.
Pour batter into cake pan or prepared muffin tins.
I bake out of habit most of the time and couldn't tell you how long these take to bake. But it takes a while for this one.
I also used sunflower oil instead of canola(that's all I had) and some ground flax, organic sugar, and a mix of organic all purpose flower and whole wheat flour.
It turned out to be quite a sturdy cake but still really moist. I think it would hold up really well as a stacked cake with fondant.
Tara, Nova Scotia, https://www.facebook.com/pages/Valleys-kool-cakes/131353476890032