Interview #62: Sweet Dreams by Heba Elalfy
Sweet Dreams by Heba | Facebook Page 1. Tell us a little about yourself, family, where do you live and what did you do for a living before making cakes if anything? I want to thank Michal Bulla for asking me for an interview; it's an honor. I'm...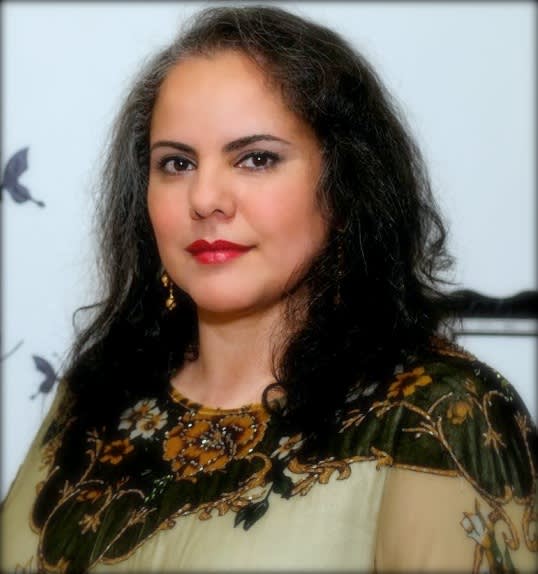 Sweet Dreams by Heba | Facebook Page
1. Tell us a little about yourself, family, where do you live and what did you do for a living before making cakes if anything?
I want to thank Michal Bulla for asking me for an interview; it's an honor. I'm Egyptian and living in Central Florida with my husband and two children. I was living in Egypt for a few years after graduating from the University of London, and then I moved to the USA when I got married. Before I got married and started a family, I worked in the Cardiothoracic Surgery department in one of the best hospitals in The Middle East and definitely the best one in Egypt. In the few years that I worked at the hospital, I was quickly promoted from CTS Secretary to Surgical Consultant Assistant and also working in conjunction with The Medical Council, and other departments such as Neurosurgery and Medical Records to name only a couple. I earned a reputation for myself as a trust-worthy, hard-working, dependable member of the Council and the staff as a whole. I love drawing, painting, traveling, decorating and eating chocolate!
2. How or why did you get started in cake and cookie decorating… was it by accident or did you always have a passion for it?
As a little girl, I was always by my Mother's side in the kitchen as her little Sous Chef, especially when it came to helping her create delicious Arabic, Italian and Indian desserts; so I've always been keen to try new recipes and create pretty desserts. I meddled in that for a while before College and then when I first got married but it was really after my children were toddlers that they began requesting specific birthday cakes. Through the encouragement of my loved ones, I created a Facebook page called 'Sweet Dreams by Heba' where I could create a portfolio of my desserts, and it's grown from there! My love of cookie decorating took a huge leap last year after I took a couple of live classes here in Central Florida and I haven't looked back since!
3. Is there one tool you cannot live without and one you don't have yet but really want?
Well, I'd have to say definitely my dehydrator for my cookies. I've been using my dehydrator for only a few months now and before that I'd have to wait for more than a day or two until the Royal Icing was stiff enough to package or to paint on. My dehydrator is a life-saver!  It's almost impossible to name just ONE thing I really want which I don't have yet because my wish list is a little long. For example, I'd love to own a robot! Can I count that as a tool?! Hahahaha I'd have a robot that I can program to knead fondant and roll it out perfectly, cover the cakes, stack them perfectly and other duties.
4. What part of making cakes do you like most and least?
The most enjoyable part for me is the sketching and designing part followed by final decorating, because I find it relaxing. Just like when I'm decorating my cookies, I really find that piping and painting the Royal Icing is a soothing process! My least favorite part of caking is the process of baking and cooling and stacking. That part doesn't allow too much room for creativity outside the normal process especially if it's a very specific flavor request which means that I don't have room to experiment and improve upon.
5. Tell us one thing about yourself that many of us might not know already.
Only a very limited number of people in my life have known that I have a sixth sense. From my adolescent years, I've had many times in my life when I've dreamt of something that happened exactly that way, or sometimes I get a sense (sometimes in my mind I see it eyes wide open or sometimes I hear my Angels voices) that has come true or saved me from something. I'm not talking about déjà vu. It's a blessing because, for example, one of those dreams came true the morning after one such dream, in April 2000, when it literally SAVED MY LIFE. Another one of my VERY FIRST memories I have, and most of you won't believe it, is when I was probably about a year old, laying on a bed having my ears pierced with a pin/needle. That was back in the mid-1970s. I can describe the room, the bed, the color of the sheets, who was there. These details were NEVER given to me at any point in my life.
6. What is your favorite cake/cookie you have done to date?
OMG, this is a really hard question to answer!! Hahaha I have a handful of cookies that are at the top of my list of ABSOLUTE FAVORITES! I love the 'Teddy Bears Gone Fishing' one that I made last October in a class that I hosted for 'The Cookie Lab – Bolachas Decoradas Artesanais'. You know what? My most favorite cookies are kept in a secret vault under lock and key!! :) NO. I'm just joking, but they are definitely kept in special containers away from 'danger'!! LOL.
As for my cakes, each one is special to me because I've put a little part of me into them all like the ones that I create for Icing Smiles, Inc. One of the cakes that holds a special part of my heart is one I made not too long ago decorated with Royal Icing.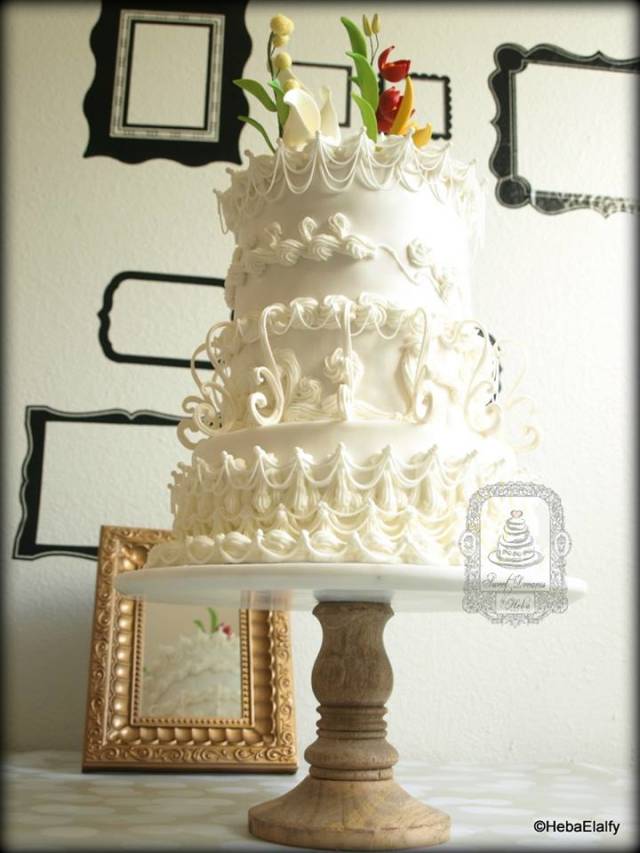 I do have some cakes that come a very close second :)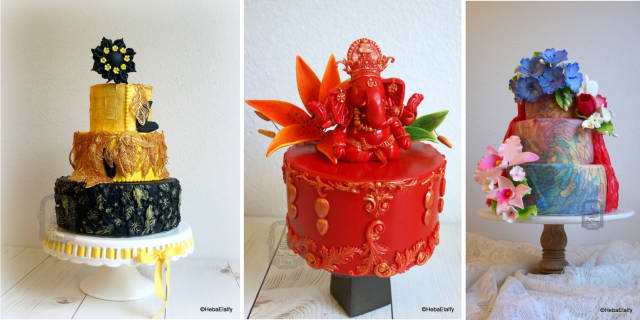 7. Do you have a bucket list and if so what might one or two of those be and it does not have to be cake related?
This is an easy one to answer! Taking a class with Nadia Flecha of 'Chokolate'! From the first time I'd seen one of her creations, I've been in love with her work and am always left in awe by her cakes and figurines. I'd also like to do more traveling and see more of this world!! I really enjoy seeing how people live, what their cultures are like, what they eat and wear, and seeing their natural surroundings.
8. What would you say has been your biggest cake challenge to date and if you could have a do-over of it would you want to and what about it would you change?
I wouldn't call it a challenge but one cake that I would love a do-over is the one I made for the 'Music Around The World' collaboration in 2016; not because the cake was poorly designed or anything, but because I would LOVE to make a belly dancer from cake, modeling chocolate, lace and Isomalt! She'd be a beautiful and sexy Egyptian belly dancer.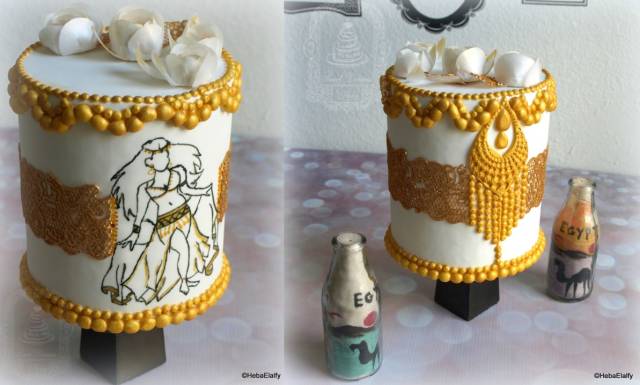 9. Is their one technique or sugar skill that you have not tried yet but really would like to learn?
I would LOVE to work with modeling chocolate and create life-like busts because I've not had an opportunity yet to take a class for this technique, such as that given by 'Carla Puig – Sugar Atelier'.
10. Do you work from home or do you have a cake shop?
I work from home and that allows me the freedom to schedule the baking and decorating around my personal time and my family's time. However, I would love to own a cake shop in the future; it will happen at the right time, I'm sure of it :)
11. Do you sketch your cakes or just wing it?
I always sketch my cakes because then I can modify the design on paper and see how I can make it prettier. I might decide on a different medium to use and alter the design in the best way, or I might change the number of tiers, and so on, until I'm happy with the final sketch and stick with it!
12. For anyone just starting out what would be one piece of advice you would give them?
One of the things I learned from the start was to try different recipes and experiment with what works best in my skill level. It's alright to fail more than once or twice, but always get up and keep pushing through! I would usually ask my tasters for feedback and learn how to improve the stability of a cake or improve the flavor combinations and so on. Asking for help is alright too; we should all uplift one another.
13. What's the best lesson you have learned while making cakes so far?
Never compare myself to someone else, and to instead look at them as INSPIRATION and not as COMPETITION. Remember, those people were at the same point you're at right now. Keep growing and never stop learning.
14. And one crazy one just for fun…If you could be a fly on the wall for a day whose wall would you want to be on and why?
Wow, that's a great question! As far as cakers and cookiers, there are too many I wish to be a fly on their wall!! So, I'll go outside of the sugar world and say I'd like to be a fly on the walls of the palace of Egyptian Queen Nefertiti. It would be a remarkable thing to watch her daily beauty routines and her leisured lifestyle, and how they had Ancient Egypt prosper under their rule.
Thank you for the interview!
Some of the Heba's Cakes, Cookies and Cupcakes:
interview heba elalfy sweet dreams by heba cakes cookies
54