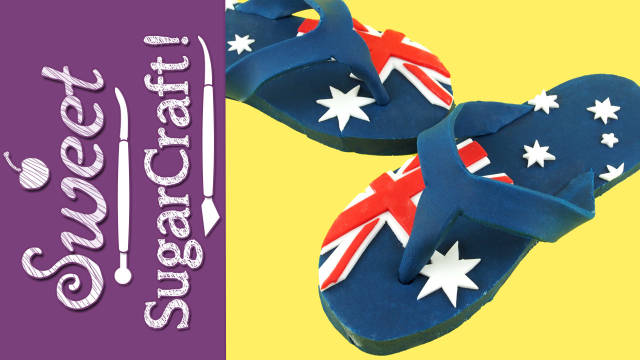 https://youtu.be/5AwDiHSqrcI
Make your own awesome Australian Flag Fondant Flip Flops aka Thongs, the perfect cake topper for your Australia Day cakes!
With Australia Day later this month I thought this might be a fun tutorial, I hope you all enjoy it :-)
SUBSCRIBE to my YouTube channel https://www.youtube.com/sweetsugarcraft to be sure not to miss how to make the next Sweet(!) cake topper and to see it a bit earlier!
For sneak peeks and updates! Visit me on:
Facebook https://www.facebook.com/SweetSugarCraft/ and
Instagram https://www.instagram.com/sweetsugarcraft/
MODELLING PASTE or FONDANT with TYLOSE or CMC added in, used in:
• Navy Blue, White & Red, Sandy Yellow.
TOOLS & EQUIPMENT:
• Flip Flop/Thong Template (can be found on my Facebook page facebook.com/sweetsugarcraft)
• Scissors
• Cornflour Duster
• Non-Stick Rolling Pin
• Craft Knife
• Stanley Knife Blade
• Needle Tool or Toothpick
• Small Star Cutter
• Vegetable Fat (Crisco)
• Cel Stick or Thick Skewer
• Sugar Glue + Paint Brush (for glue)