Interview #49: Jessica MV
Jessica's: CakesDecor Profile | Facebook Page | Website Interview 1. Tell us a little about yourself, family, where do you live and what did you do for a living before making cakes if anything? I was born and have been living in Vietnam. I'm a...
Jessica's: CakesDecor Profile | Facebook Page | Website
Interview
1. Tell us a little about yourself, family, where do you live and what did you do for a living before making cakes if anything?
I was born and have been living in Vietnam. I'm a mother of 2 little lovelies who are the meaning of my life: an 11-year-old boy and a 8-year old girl. They have every day arguments but seem very unhappy if not being together. Handling their disputes helps myself improve some important skills: listening, patience, keeping calm, getting angry in the right time, etc lol. I got married after being in love for 8 years with the 1st man I fell in love with, at the age of 26 and we have recently celebrated our 11th anniversary.
I taught English as a foreign language at Hanoi University of Industry for 10 years after my university graduation; then I decided to quit it in 2010 to work on my own as a manager in human resource industry though I loved teaching career a lot and never thought I would stop doing it. Since then, I found myself more flexible for other things beside earning money including spending extra time for my hobbies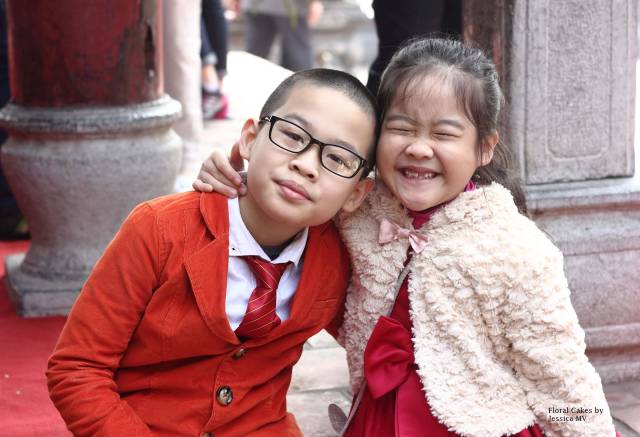 2. How or why did you get started in cake decorating… was it by accident or did you always have a passion for it?
When I was still a university lecturer, I was really interested in baking but was too busy to start. Since I started my second career, I have had more time to explore myself. Initially, I bought a DSLR camera for food photography. I was a member of a great food photography Facebook group where people could learn a lot from each other and there were so many multi talents in cooking/baking and photography in that club. I quickly got addicted to all beautiful foods including cakes. I taught myself to make a lot of baked and non-baked cakes and desserts learning from baking blogs and books, then took my first steps in making home-made fondant and gum paste, then fondant cakes and gum paste flowers and they have been my passion until now. However, I have given cake decorating a priority in my cake life, baking is becoming what I spend much less time on.
3. Is there one tool you cannot live without and one you don't have yet but really want?
The tool wins most of my love is the ball tool. I love making sugar flowers, so the ball tool has been part of my cake life.
4. I love your designs they are always so very creative with texture, color and techniques, where do you get most of your inspirations from for your cakes?
Everything relating to arts and crafts can become an endless source of inspiration for my cake designs. I'm interested in exploring hand crafted skills with less use of tools and equipments such as hand weaving, quilling with wafer paper and gum paste strips, macramé's, layering textures in mixed media art style.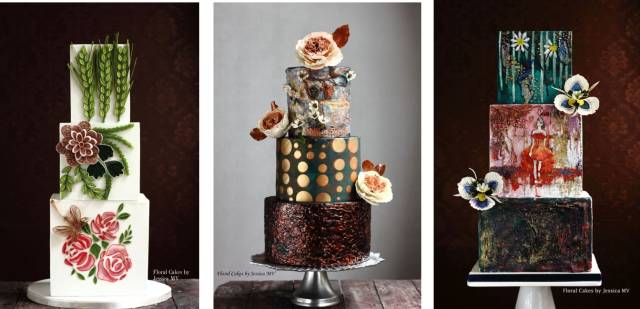 5. What part of making cakes do you like most and least?
I love all things of decorating part: making and dusting florals and foliage, working out new techniques of textures for my wedding cake designs, but, like some other cake decorating artists, I wish I have some assistants to do the baking and cleaning job for me and I'll just be in charge of decorating.
6. Tell us one thing about yourself that many of us might not know already.
I'm scared of driving cars. I've had several driving lessons but they always ended up the same way: I would find a reason to stop learning and never took a driving test. I can't drive!
7. Some of us had one particular cake that was the cake that got us noticed in the industry do you remember what cake that was for you and if so which one was it?
Every cake artist can be a trendsetter with their own unique style. I'm not quite aware of the most noticed cake of mine but the first hand-woven wedding cake I did recently seemed to get the most traffic on the social media. I myself love my macramé's cake. Many people asked me about the macramé technique and I also gave classes on it which attendants were very interested in.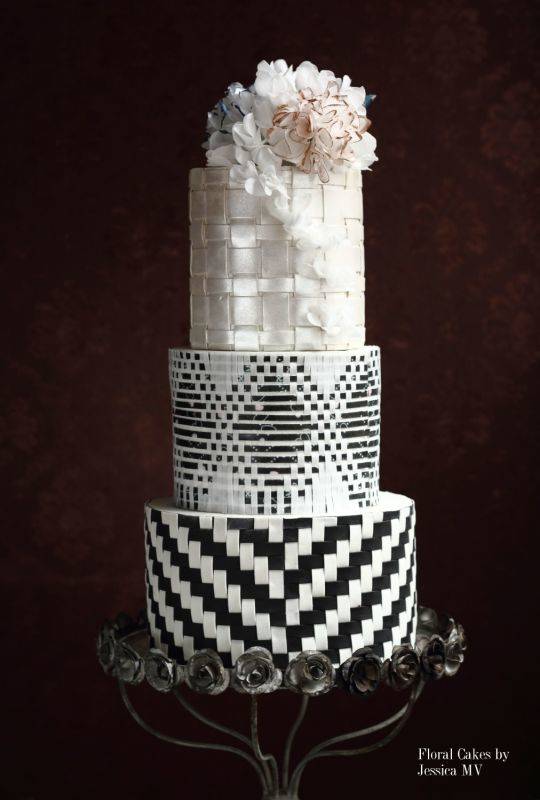 8. Do you have a bucket list and if so what might one or two of those be and it does not have to be cake related?
I wish I could find some break from my busy schedule to travel the world with my family.
9. What would you say has been your biggest cake challenge to date and if you could have a do-over of that cake would you want too and what about it would you change?
During the first 3 years since I started cake decoration, I took some cake orders every week. However, I still had a good job to earn a living in human resource industry, so I decided to stop taking orders and invested my free time into developing new decorating techniques and giving cake decorating classes. Either this or that way, I haven't get a big chance for the challenge like making a super big cake, entering a cake show or something similar. My cake life is somewhat quiet, lol!
10. Is their one technique or sugar skill that you have not tried yet but really would like to learn?
Oh yes, I have a long list of most wanted techniques to learn, one of which is making a sculpted cake.
11. What is your favorite cake flavor you like to make?
My all-time favorite is simply sponge cakes with lemon Swiss Meringue butter cream filling.
12. Do you sketch your cakes or just wing it?
I often start a design with a simple sketch just to indicate the techniques, textures, color scheme and materials for myself not to forget anything when I come back to it. I seldom try to make it a very beautiful drawing with every detail on it.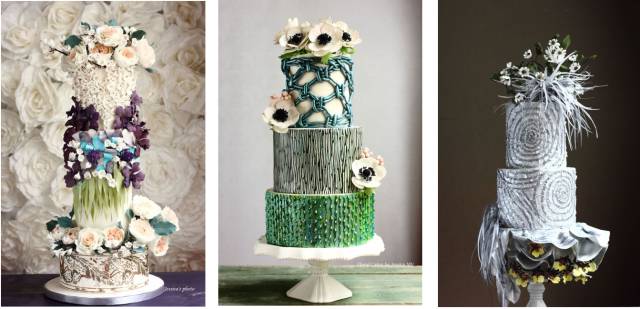 13. For anyone just starting out what would be one piece of advice you would give them?
Keep learning from the cake community and practice is the key!
14. What's the best lesson you have learned while making cakes so far?
Of course all of us as cake artists have a variety of lessons relating to baking, decorating and business skills by learning from others and our own experience. There's a lesson that I always have to remind me of is that making cake is a combination of different hand craft art forms which requires a lot of passion, skills, time, budget and even finance to nurture it (even if you can earn enough for your living from it), so I will never underestimate it and accept a bargain for a work of art!
15. And one crazy one just for fun…The Olympics have just finished but if you were to be an Olympic competitor what sport would it be in …can be summer or winter Olympics?
Oh I would be a shooter! One of our athletes, Hoang Xuan Vinh won a gold and a silver in shooting in Rio, which is the best achievement of our sports team ever at the Olympics games and he has inspired me. It requires sturdy hands, calmness and high attention, all of which I need to improve
15