Interview #48: Enrique Rojas from HaveSomeCake
Enrique's: CakesDecor Profile | Website | Facebook Page Interview 1. Tell us a little about yourself, family, where do you live and what did you do for a living before making cakes if anything? I'm the middle son of a Doctor and a Nurse and have 2...
Enrique's: CakesDecor Profile | Website | Facebook Page
Interview
1. Tell us a little about yourself, family, where do you live and what did you do for a living before making cakes if anything?
I'm the middle son of a Doctor and a Nurse and have 2 sisters. I live currently in Birmingham in The United Kingdom where I moved 20 years ago from Venezuela in South America. I basically swapped Islands, as I was born on a tiny Island off the Venezuelan coast called Margarita Island and moved to this much bigger Island to pursue a Masters in Architecture Design , which is what I originally trained for and worked for many years before fully embracing baking and cake decorating.
2. How or why did you get started in cake decorating… was it by accident or did you always have a passion for it?
It was a natural evolution for me. I have always been somehow connected to baking through relatives so I could say I was never far away from someone that was into baking/decorating. When the World economy came down crashing back in 2008, I lost my day job as an Architect and turn to baking to basically fill my time. With more time on my hands I started to develop my cakes, get into decoration even more as I could spend more time on it, up to the point in which friends and family started to push me to go Pro. It took them some convincing me thou, they believed more than me.
3. Is there one tool you cannot live without and one you don't have yet but really want?
This is going to sound basic and even boring but I don't think I could do without my Rolling Pins! I don't do modeling or sculpting and I paint cakes with brushes so do not have any fancy tool I couldn't live without. I ticked the "Airbrush" dream recently (and still have to use it for the first time) but if there is something I would really REALLY like, not tool but more like big gadget, then that would be a big fancy Sheeter, then my rolling pins would become second to it!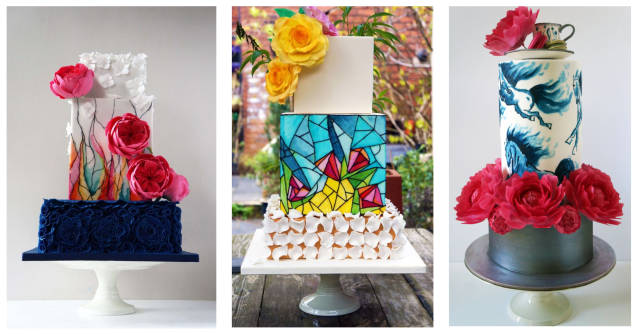 4. How did you find cakes decor and what makes it a place you want to keep sharing on?
By accident! I was googling away, searching for an answer to a question and it came out of CakeDecor! I realized it was a Community/Forum and decided to give it a go. More than a place to keep sharing on, I think you have this immense, vast pool of knowledge and cool people you can connect to , not only at a Cake peers level but you can become real friends with some too. That alone is more important to me than anything else.
5. What would you say has been your biggest cake challenge to date and if you could have a do-over of it would you want to and what about it would you change?
Earlier on, when starting to bake as a business, I thought it didn't matter to do anything as I welcomed the experience gained from it. Far from it, I have learnt that it is very important to say NO to projects you do not feel Ok with. Not talking about being comfortable skills-wise but more to do with connecting at a deeper level, liking and loving what you do, because that comes across in your Work! So yes, my biggest Challenge has been learning to say NO to people and projects and cakes I did not like even if the rewards were great. And Yes! I do have a few Ugly babies in my past as a consequence of not saying NO when I should have! Hahaha!
6. What part of making cakes do you like most and least?
I am big on the Baking side!!! I know it's not the favourite of many but I love it. It does relax me! The Calm before the storm! I love testing, trying, combining, inventing new flavors and combos and lately I like researching and trying all these Vegan and GF bakes out there! Second to it would be flower making, even if it is not exactly my forte and I would say still learning, exactly because of the same reason as baking, it is very relaxing.
The least liked is…COVERING! I dread covering Cakes! I beat myself and prepare the day before for it! I think is the remains of my previous life as an Architect, always checking the width of the sugar paste, the smoothness of it, the straight edges, the levelling of it! Really stressful!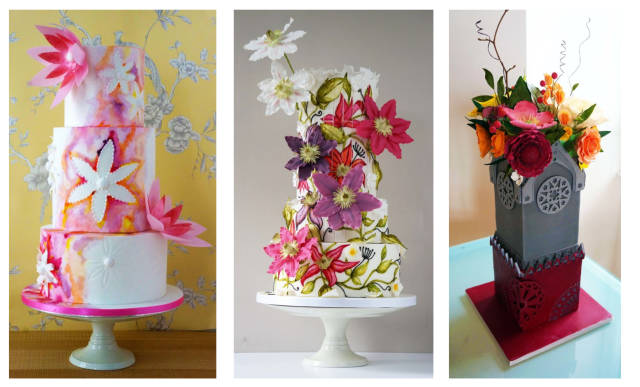 7. Tell us one thing about yourself that many of us might not know already, it does not have to be cake related.
I am terrified of Spiders. Not talking about big tarantula style spiders only. I mean SPIDERS! Even the tiniest ones make me run a mile!!!
8. Is there one technique or sugar skill that you have not tried yet but really would like to learn?
Isomalt. I have worked with it at a very basic level, nothing complicated but I would love to get to know how to really work with it. Not talking about making sculptures out of isomalt but to know exactly how to work with it and use it accordingly in my projects!
9. What is your favorite cake you have done to date?
From a complete Design point of view, I love my ANEMONE design. I really like the sobriety of it and how modern it looks. Closer to my heart than my wandering eyes, I have a couple of Wedding Cakes for some couples I really connected to and made me feel part of their stories behind their Cakes! Like "East meet West" and "Winter Wedding".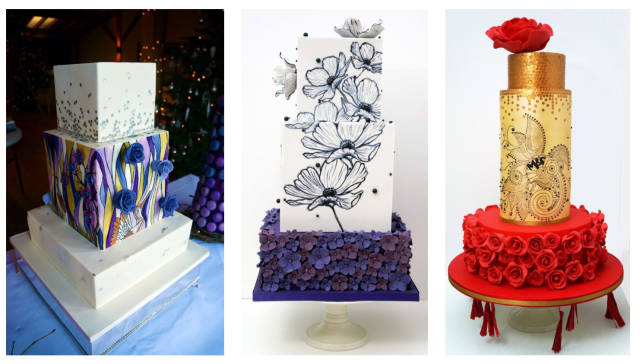 10. Do you have a bucket list and if so what might one or two of those be and it does not have to be cake related?
Everyone has a Bucket List or Wish List or just wishes, well I hope everyone have one anyway. I would love to make a Book about Wedding Cake design for example! Remote and unlikely but sometimes Wishes are! And as a big fan of travelling and getting to meet different Cultures, I would like to visit Cambodia and Japan. Doable, I hope!
11. Do you sketch your cakes or just wing it?
Definitely on the Sketching side, especially for Wedding Cakes as I can convey the ideas to the clients in an easier way. Of course they are not hyper detailed sketches, but 2D painted in watercolours and long irregular lines. I don't think detailed sketches are that good as they don't give you any room for maneuvering in case something doesn't come up the way you expected it. But for minor projects, like small Birthday Celebrations I usually have the idea in my head and wing it when executing it!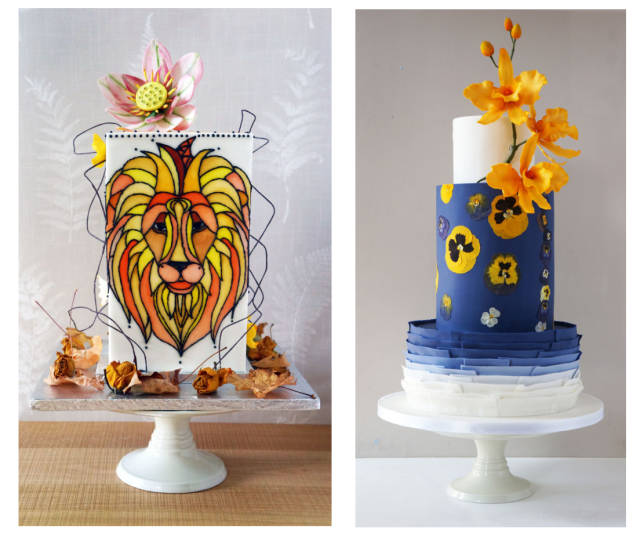 12. Do you have a favorite flavor of cake that you make?
Rose with Pistachio Swiss meringue Buttercream AND Pistachio with Rose Swiss meringue buttercream! I just love the contrast between the Rose and Pistachio either way. I also love Coffee and Walnut Cake. And my take on Paul Hollywood's White Christmas Cake drowned in Amaretto!
13. For anyone just starting out what would be one piece of advice you would give them?
Be brave, be different, be kind, love what you do and it will shine through it. I don't think you have to necessarily re-invent the wheel, I think everything has been done at least once already. Focus on what you are good at and develop from there. Trying to do everything and all types of Cakes is pointless and might distract you from the good work. And always keep learning! Never stop! There is always small little (and big) things to learn from everyone and everything!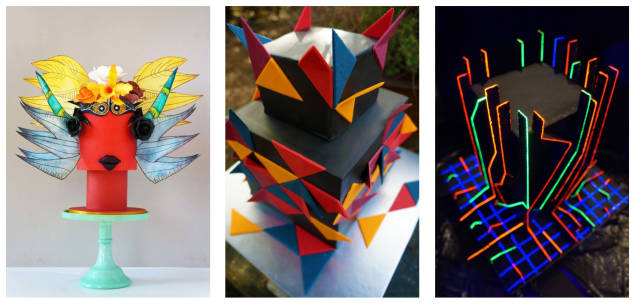 14. What's the best lesson you have learned while making cakes so far?
I've learned to appreciate people, their stories and likes. If there is anything that I have enjoyed a lot these years is receiving all these strangers at home and having a conversation with them, making them feel at ease and turning them into a more intimate exchange with the added bonus of eating Cake! Somehow I have become a Cake psychiatrist! I have also learnt to be alone with my thoughts, which can be a scary thing when we live in a World in which you are hardly ever alone.
15. And one crazy one just for fun…If you could have a starring in role in a movie what kind of movie would it be, etc love story, horror, drama, action and who would you want as your co-star, can be man or woman?
Hahaha…Ok…I'm a big Sci Fi fan and HUGE Stars Wars fan so it'll have to be a Space Soap Opera for sure! As for my co star…well, I have a big crush on Simon Pegg, so it would be a lie if I tell you I would like anyone else as my co-star, because let's be honest, If I am going to be fighting Aliens and maybe risking my life at least I want someone besides me to make me laugh all the way!
Some of Enrique's Cakes:
interview enrique rojas have some cake
Part 48: Enrique Rojas from HaveSomeCake
Part 49: Jessica MV
31