Interview #41: Isabel Tamargo from Tartas Imposibles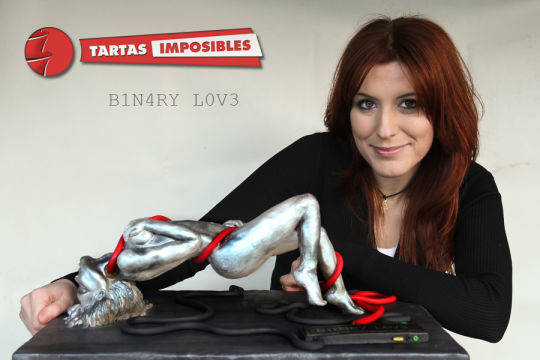 Isabel's: CakesDecor Profile | Website | Facebook | Pinterest
Interview
1. Tell us a little about yourself, family, where do you live and what did you do for a living before making cakes if anything?
I was born in Madrid but we moved in my early childhood to a one of the most beautiful towns located in the south of Spain, Ronda, where I grew up with my parents and little brother. Despite what it would seem, in early youth I was never interested in plastic arts or crafts but I loved so much cooking and pastry and above all, cinema. I am a crazy Movie Buff! So I studied a lot to get good marks and signed up at University's Cinema and Journalism Department to become an acceptable screenwriter. I joined a lot my degree but not everything is pink roses for newly graduates and my scripts were gathering dust so I started a new degree in Psychology while I was working and bringing my child up. My last years (before I discovered cake decorating) I moved to the rainy northern Spain with my couple and son and here start my cake story!
2. How or why did you get started in cake decorating… was it by accident or did you always have a passion for it?
It is not very original as well. Same as almost every mommy does, I tried to find a way to make an unforgettable pirates party for my little son. I didn't know anything about cake decorating in 2010, in Spain Sugarcraft was something too new to even find tutorials or any help in my language but I managed to make an ugly but colorful pirate cake. And I totally fell in love with that branch of cake decoration! After that I asked Saint Google what he had and he opened me to a huge and amazing world which was coming slowly to our seashores. Progressively in these last years spanish cakers could have sugar pastes, icings, wafer papers, edible colours and many more available in online or physical stores but it is still not enough and sometimes we have to order out of the country. It was a rocky start, I was so excited and looking forward to make cakes about everything, every film, every character, just to impress my people but I hadn't got those materials and tools at hand nor training in my town even nor money to take classes…but something big woke up when I discovered Sugarcraft and I couldn't ignore it so in 2013 I fired myself in a bakery where I was working and started practicing at home to improve by myself.
3. Is there one tool you cannot live without and one you don't have yet but really want?
I've been working a few times with polymer clay last years just for fun and I found sculpting a really thrilling hobby so as I practiced modelling with sugar I was more interested in sculpt with edible pastes. That's the main reason I usually work with my hands but also use a few tools to help me with details, my fav for detailing faces is flower leaf tool and of course dusting powders and cat's tongue brushes for finishing. And the great ignored for me is ball tools (but I'm changing that and this week I did my first roses, what a hard work!)
4. How did you find cakes decor and what makes it a place you want to keep sharing on?
I found Cakes Decor surfing on the internet seeking out examples and ideas when I discovered this branch of cake decoration and I was amazed with the enormous amount of pictures, awesome artists from all over the world, tutorials and very interesting news. I discovered your page in 2012 but I wasn't feel prepared to show and share my works until 2013 when I improved a little. I remember the first time I uploaded a cake here, I was scared to death and excited at the same time when I saw other wonderful members voting and commenting my work. I've found here a great place to enjoy watching amazing pieces, meeting friends and being up to date with cake decoration trends.
5. What part of making cakes do you like most and least?
I enjoy every project but it's not a secret I'm crazy about sculpted bust cakes so the best part for me is when I create volumes, shape and polish the surface. I'm very picky with details and finishes and I never have enough time for that so it's an intense but very gratifying process. I also get the most out when I see the sparkle in the clients eye's when I deliver the cake. It's the same if it's for a child, a couple or a retired grandpa, that moment always moves me and I work hard last three days just to see their faces and be part of that special day.
I like pastry (but not so much as cooking), I learnt a lot from my grandma about desserts and sweets but we this type of cakes requires bring yourself up to date and I'm learning to increase and improve my sponge cakes and creams options. I feel more like a plastic artist than a baker as well.
6. Tell us one thing about yourself that many of us might not know already.
Music is my motor, inspires me and keeps me going. I signed up at Conservatory when I was 8 years old and my parents bought me an upright piano that was enormous comparing with me but both grew up. Now he's too old, too flat and rest in my parent's house and I'm too busy to sit in front of my new digital piano for a while and it doesn't sound like my old friend. Even so, when I'm overwhelmed I just sit in my corner, play and sing a little bit and all pain goes away.
7. What is your favorite cake you have done to date?
What a hard question! Everybody usually ask me that but I have mixed feelings about my works. I'm a self-taught cake decorator, I'm still learning, filling gaps, rectifying … my feelings about my works are so subjetives. Well, I feel proud and still surprised about that Smaug I did for my son's birthday last January. He always wants "my best cake of the year" and that time I did my best to leave him with his mouth open. But there is other cake, not so well known, that was a big challenge for me and gave me the confidence to keep going with realistic bust cakes, and was my Tywin Lannister from Game of Thrones.
8. Do you have a bucket list and if so what might one or two of those be and it does not have to be cake related?
I have a very long bucket list so I hope I can live almost another 30 years to cross out a few of them! Well, my dreams are quite achievable and many of them related to traveling, It's been years since I take a bag and disappear for a week but I would wait if it meant I could give my parents a trip to Vienna on Christmas to go to the Vienna Philharmonic Orchestra's New Year concert. I had been dreaming about that since I was a child (at that time I was sure I would win the lottery, I'll live in a large house with four dogs and buy another chalet for them…children, poor fools!)
9. What would you say has been your biggest cake challenge to date and if you could have a do-over of it would you want to and what about it would you change?
One of my biggest cake challenge was my Captain America bust cake. That was a big project for a big childrens party, more than 50 people and the birthday boy was my little neighbour who's a comic lover with only 3 years! Their parents wanted to keep captain America's face up so I built a structure to divide cake and non edible part and a plinth to screw the bust after the party. That was tougher than I expected but I acquitted myself quite nicely. These months I have been learning more and I'm sure I could do better of course but that man impressed everyone in the party, my little neighbour (who was dressed up as Captain America too) was amazed and I was half-asleep but very, very happy wih him. Just an anectode: red velvet is very common in US but we haven't got red sponge cakes here so I did red velvet with a soft cheese cream to shock parents and children when I cut it. When I picked up the knife the room was in silent awe and one mother let out a small yell when red sponge cake appeared!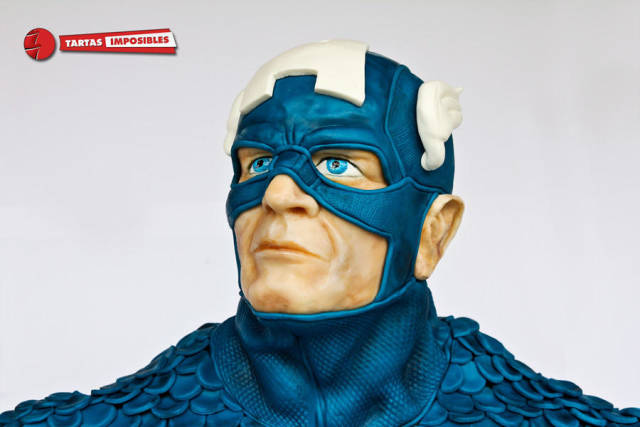 10. Is their one technique or sugar skill that you have not tried yet but really would like to learn?
Lots of them. My only regret is not having enough time to learn more so when I'm interested in a technique I need for a new design I search for help or just think of how can I get this or that finish or texture and try several times until I get it. I'm very interested for example in crackled effects, I'd love to have time to make better gum paste flowers, practice with isomalt or make beautiful designs with royal icing. I will do all that bit by bit, I have no other choice.
11. Do you have a favorite flavor of cake that you make?
At home, each one have our favourite: for my couple, cream cheese brownie with raspberry frosting; for my child, a classical red velvet with cream cheese, and for me, a must be for any pastry chef: carrot cake combined with cream cheese and apple cider icing. Delicious!
12. Do you sketch your cakes or just wing it?
I always draw my sketches in pencil because I find it easier to modify, calculate proportions and check every element makes sense into the design. When I sculpt a face I usually use photos from several angles to make a good 3D face, as similar as possible to the original.
13. For anyone just starting out what would be one piece of advice you would give them?
I'll tell all those people that this is not a sprint but a long race. You need to check every branch, no matter how long it takes and discover what touches you deeply and invite you to keep going; that yes, there are many awesome artists around but you never know how far you can go so please don't get you down when you see other good work, just inspire on it and turn your discourage into a motivational message and keep practicing, just do it; flee from envy, be your hardest judge, feed your creativity with your own experiences, and know for sure that to be successful largely depends on your determination, your capacity to overcome the bumps on the way and your self-esteem.
14. What's the best lesson you have learned while making cakes so far?
I've learned tenacity, humility and generosity from people I admire; I've learned how successful may become haughty and lack of empathy from people I admired; I've learned to work hard for my mates in collabs even when that work is not valued; I've learned to make me strong at adversities, to get up and keep going and foremost, I've learned that we ourselves are a mystery, a blank canvas and you can always reinvent yourself.
15. And one crazy one just for fun…If you could be anyone else in the world for just one day who would you choose to change places with?
I'd want to be the finally improved version of myself so I can learn during the day about how can I do it better so a day after I can remember my "super-me" and improve faster! haha
Seriously, thank you so much for this interview Sharon and Michal! I enjoy a lot and practiced a lot my English!
Thank you Isabel and Shags for the interview ;)
Isabel's Cakes
-- -- Michal, http://cakesdecor.com | My Facebook: http://www.facebook.com/michal.bulla