Cake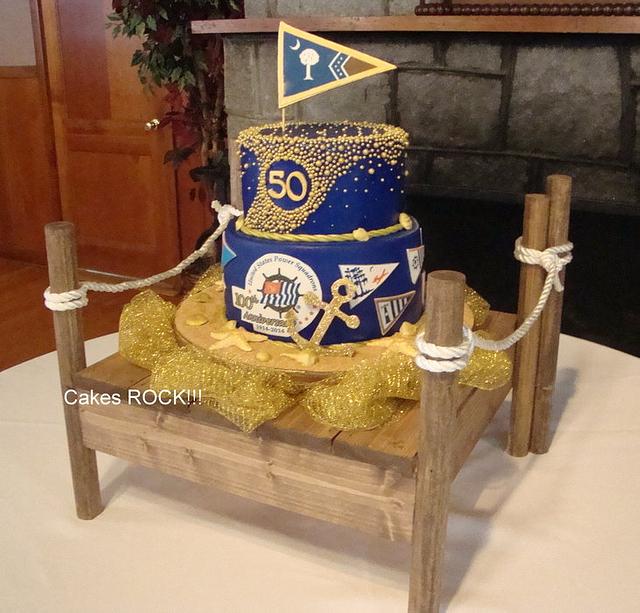 Lake Murray Power Squadron 50th Anniversary
This cake was for the 50th anniversary celebration of the Lake Murray Power Squadron, but it was also requested that all the burgees of the 13 squadrons that make up District 26 of the United States Power Squadron be represented, plus the 100th anniversary of the United States Power Squadron.
The top tier is the 50th anniversary commemoration, with the LMPS burgee proudly displaying its new gold border signifying a squadron over 50 years old atop the cake, & the cake itself representing a clear night sky where one could navigate a vessel by the stars—all in gold for the golden anniversary. It is an Australian Chocolate Mud cake with Salted Caramel Buttercream filling & milk chocolate ganache. The bottom tier has the seal of the USPS 100th anniversary, plus the 12 burgees of the other District 26 squadrons. It is a butter cake with buttercream filling & white chocolate ganache. All decor is edible.
The wonderful 'dock' cake stand was made by a very talented woodworker we have in our squadron, who made it for me on VERY short notice! Isn't it awesome?
My husband & I have been LMPS members for years now, & he's even a licensed captain! We LOVE our boating & our Squadron! So this one truly came from the heart!
anniversary golden anniversary 50 years united states power squadron lake murray power squadron burgee boating stars celestial navigation chocolate vanilla salted caramel caramel 100th anniversary
4