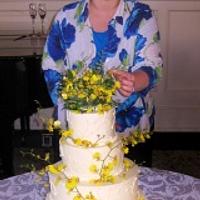 Nancys Fancys Cakes & Catering (Nancy Goolsby)
posted
about 5 years ago
Groom's cake football high school homecoming
Advertisement
Advertisement
Groom's cake football high school homecoming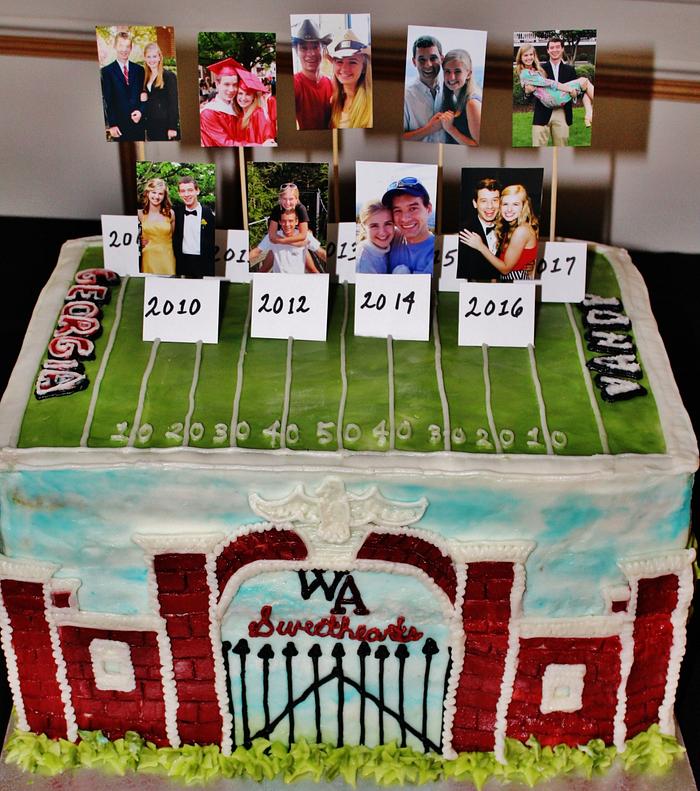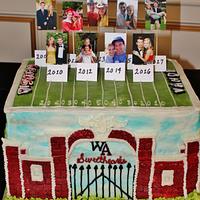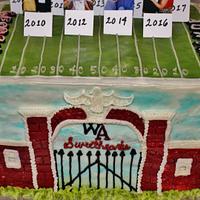 expand all pictures
Advertisement
Advertisement
This was a large cake with 4 layers of 12×18 sheets, for a grooms cake (butternut & almond flavor cake). It represents where the couple met in high school where the (now groom) was asked by the (now bride) to escort her to homecoming court. The front side of the cake was the gate at the school (Washington Academy, in Atlanta, Ga.). The top of the cake represented the football field on the homecoming for the "first date". On either end of the field there is the name of the colleges they attended (Vandy for Vanderbilt, and Georgia (State University). The photo's for each year they were together were provided by the bride, and I taped the back with wooden skewers to be secured in the top of the cake. Except for the photo's and year signs, this cake is 100% Buttercream frosted and designed.
They came to Abingdon to get married, as the Bride's parents owned a very nice large historical hotel Inn here in Abingdon, Va. where i am located. They decided to have the cake the night before for the rehearsal dinner that fed close to #200 guests. They had closer to #150 attend.
I hope you like the cake, I was a bit nervous about supporting this cake in transportation, as i couldn't finish it at the site, due to the design being all one. I did have trouble with one air bubble kept pushing out the brick on the front right side of the cake, but i was able to repair it. It looks a little off to me, since I took so much time with the cake, but i don't even think they noticed it.
Nancy (Nancy's Fancy's Cakes & Catering)