Cake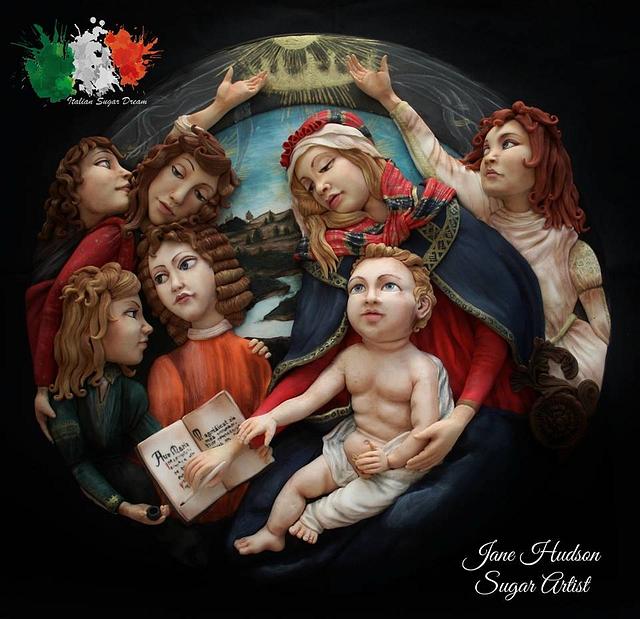 Madonna del Magnificat - Sandro Botticelli - Italian Sugar Dream Collaboration
"Italian Sugar Dream" is the first collaboration of Sugar Art ever made in Italy and exclusively composed by italian Artists.
For the very first time I have had the honour to host with this amazing collaboration presented by Global Sugar Artists Network
A group of 27 talented exponents of this sweet Art have gathered from all over Italy to entertain your eyes through their masterpieces and celebrate the Italian art, icons, symbols, music, history, trying to portrait the different areas of our Bel Paese. "Italian Sugar Dream" will take you to a journey through the heart and soul of one of the most beautiful Country in the whole world!
www.facebook.com/italiansugardreamcollaboration
www.facebook.com/arsenicoevecchimerletticakedesign
www.janehudson.it
EN – The piece that my work represents is the "Madonna of the Magnificat", tempera on wood by Sandro Botticelli, displayed tat the Uffizi Gallery in Florence. Botticelli is one of the greatest Italian artist of the Renaissance, and this painting is characterized by precious decorations, bright colors, high lyricism and by the use of the outline, typical of his work. The melancholy and unattainable beauty of the Madonna and the amazing play of hands between the Child who seems to lead the Lady towards the book and the delicate attention to details, worthy of the best of the goldsmiths, made me fall in love with this work. I realized it through bas-relief technique and painting it in the background. It was not an innovative choice for the theme, even though I used a totally different way to achieve it, but it was if compared to my usual way of representing things, which made me even more fall in love with this work.
ITA – L'opera che il mio lavoro rappresenta è la "Madonna del Magnificat", tempera su tavola di Sandro Botticelli, esposta alla galleria degli Uffizi di Firenze. Botticelli è uno dei più grandi artisti italiani del Rinascimento e questo dipinto è caratterizzato da preziose decorazioni, colori brillanti, elevato lirismo e uso della linea di contorno tipici dei suoi lavori. La malinconica e irragiungibile bellezza di questa Madonna e il gioco di mani straordinario tra il Bambino che sembra guidare la Madonna verso il libro e la cura delicatissima dei particolari, degna del migliore degli orafi, mi hanno fatto innamorare di questa opera. L'ho realizzata modellandola in bassorilievo e dipingendola sullo sfondo. Non è stata una scelta originale rispetto al tema, anche se ho utilizzato un modo totalmente diverso per realizzarla, ma molto originale rispetto al mio modo di rappresentare le cose, che mi ha fatto ancora di più innamorare di quest'opera.
italian sugar dream collaboration cake collaboration global sugar artists global sugar art modelling cake design italy sandro botticelli sacred art arsenico e vecchi merletti jane hudson renaissance italian art
13