Cake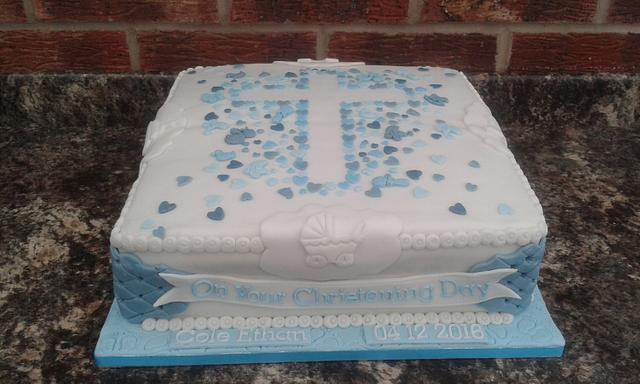 Christening cake with stencil cross and scattered heart confetti
Cole Ethan is nine months old and is being Christened tomorrow.
I've make a few birthday cakes for his big sister Eva and I was delighted to be given the oppertunity to make another cake for the family.
Their Mother Melissa asked if I could make a Christening cake with a stencil cross shape in the middle surrounded with scattered heart confetti.
If you look carefully there's also some other shapes mixed in with the hearts (rattle-pram-stork-baby feet).
The cake is split horizontally and half is vanilla sponge with jam and buttercream and the other half is Chocolate fudge.
Welcome Cole Ethan and I hope you and your big Sister Eva and all your family have a lovely day.
christening cake for a boy christening cake blue and white christening cake scattered hearts stensil cross stensil cake baby cake
26