Cake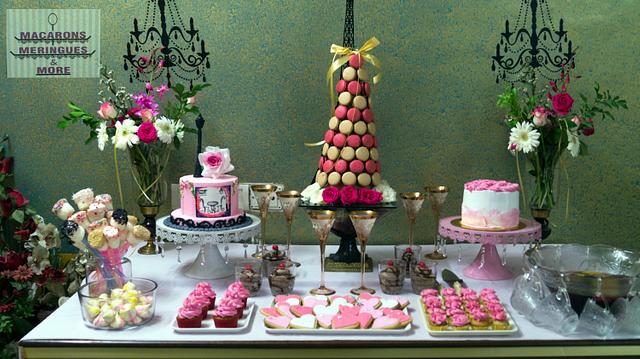 PDCA Caker Buddies Dessert Table Collaboration : PINK & GOLD P🗼RIS
Having had the opportunity to participate in the First Anniversary Edition of the PDCA Caker Buddies Collaboration , I totally enjoyed conceptualising and creating this beautiful Dessert Table Setting .
PINK & GOLD P🗼RIS …. cause I love these colours and Paris being the city of Love, romance and all things classy , elegant and artistic.
I have tried to bring about the same elegance in my visualisation of my Sweets table and my Menu reflects the same.
MENU :
▪ A tower of Rose and Champagne Macarons with Dark Chocolate Ganache filling decorated with fresh Pink and White roses.
▪ Raspberry and Lemon Meringues
▪ Vanilla sponge cake with a Strawberry mousse filling and decorated with a Strawberry flavoured whipped cream with a hint of gold.
▪ Chocolate cake with peppermint infused Dark Chocolate Ganache decorated with Sugar paste with Hand painted panels.
▪ Champagne Cupcakes with a Strawberry flavoured whipped cream frosting.
▪ Eggless Sugar Cookies decorated with Sugar paste and using pearl necklace gold dregees n sprinkles.
▪ Marshmallow Pops dipped in White Chocolate and decorated with various sprinkles.
▪ Mousse au Chocolat , the lightest smoothest and most yummy French Mousse with a dash of Baileys Irish Cream.
▪Mixed Berries Fruit Punch with a hint of Champagne , and sweet lime slices .
I have used fresh flowers to add to the decor and silhouettes of the Eiffel Tower and Chandeliers.
The best part being that I invited my closest friends to share and enjoy the entire spread.
Hope you all enjoy viewing the pictures n do leave your comments ❤
● To view more amazing settings : https://www.facebook.com/CakerBuddies/posts/1664977437126374
● Walk through my work page on fb at :
https://www.facebook.com/Macarons-Meringues-More-990453530970609/
fondant whipped cream wafer paper fresh flowers dragees americolor gel colors marshmallows silicone moulds cutters #collaboration collab pdcacakerbuddiescollaboration #polkadots india desserttable sweettable macarons macarontower #rose champagne cake chocolate mousse paris pink and gold #sugarcookies #sugarcookieart meringue kisses meringues marshmallow pops french macarons
63