This cake is inspired by Look 23 from the Ralph & Russo Spring/Summer 2016 Couture Collection – such a gorgeous dress to work from! As soon as I saw the dress, I was struck by the femininity and vivacity of the pale pink flounces, and wanted to carry that feeling into the cake. I was also struck by how well the delicacy of the colour would fuse with the Pantone Colours of the Year – rose quartz and serenity blue.
Scattered across the cake are flowers with stitching details and taffeta-like iridescence, accompanied by tiny gold leaves.
The rather extravagant peony seemed the perfect flower to harmonize with this dress, with its ruffly petals mirroring the organic curves of the flounces. It is surrounded by metallic blue leaves with a gold iridescence (which is sadly difficult to capture on camera!).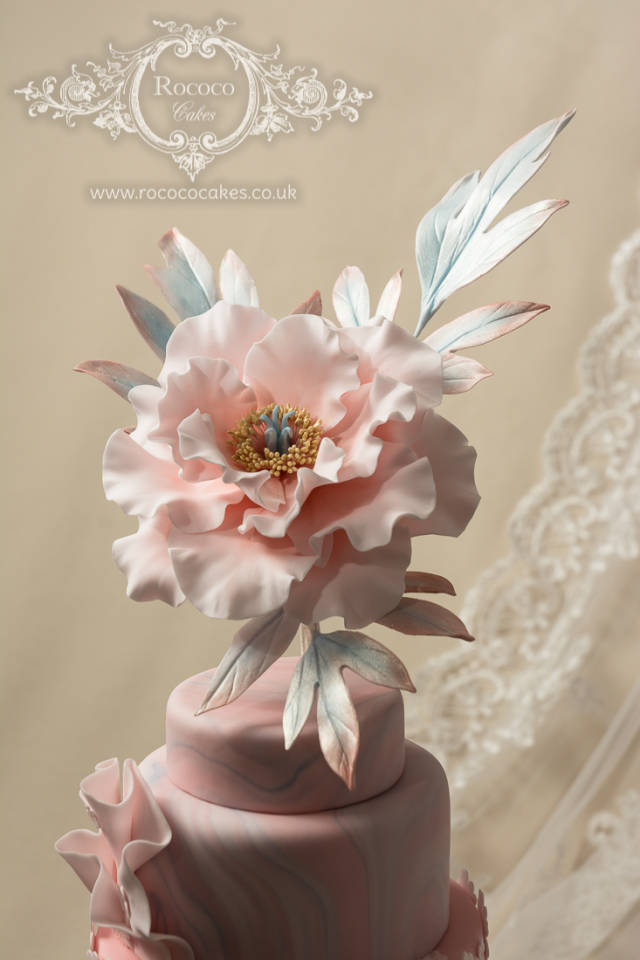 It was such an honour and a thrill to have my cake featured in Cake Central Magazine! You can get your copy of Volume 7 Issue 4 here: http://cake.ly/2eoYP9b
More photos are on my website here: http://www.rocococakes.co.uk/ralph-and-russo-dress-inspired-cake.html
Thanks for looking!