Cake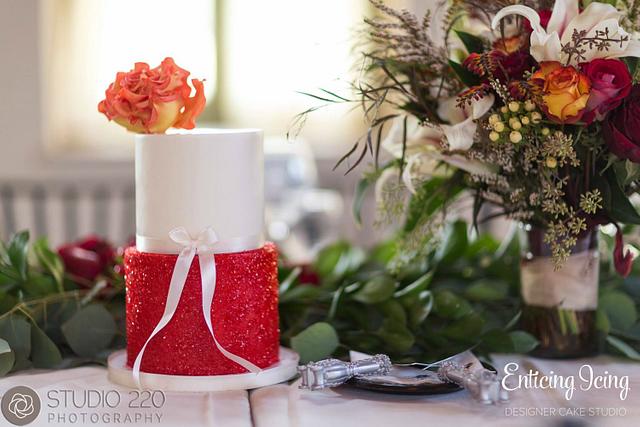 Fire Rose + Red Glitter Cake
Two-tier wedding cake with a red glitter base tier and the bride's floral of choice: a fire rose! I can't say whether that's the technical term, but it's an apt description, don't you think?
While the red tier looks beautiful in the photo, in real life, the glitter was pretty messy and prone to jump off the cake in the presence of static electricity. I used CK Red Glitter to achieve this look. While it did look beautiful and had the "ruby slipper sparkle" I was aiming for, I would definitely experiment with another method if I had to do this cake over again :)
This cake was based on a very popular design that you I'm sure you would recognize. If you replace the fire rose with a pale pink peony and the red glitter tier with gold glitter, you will have the original cake. Unfortunately, all of the places I've found the photo on the web have gone uncredited, so I still don't know who the original designer is :( It goes to show how important it is to watermark your work! If anybody knows, please let me know!
Photography by studio222photography.com
edible glitter gum paste fondant fire rose glitter red sugar rose wedding cake
4