Cake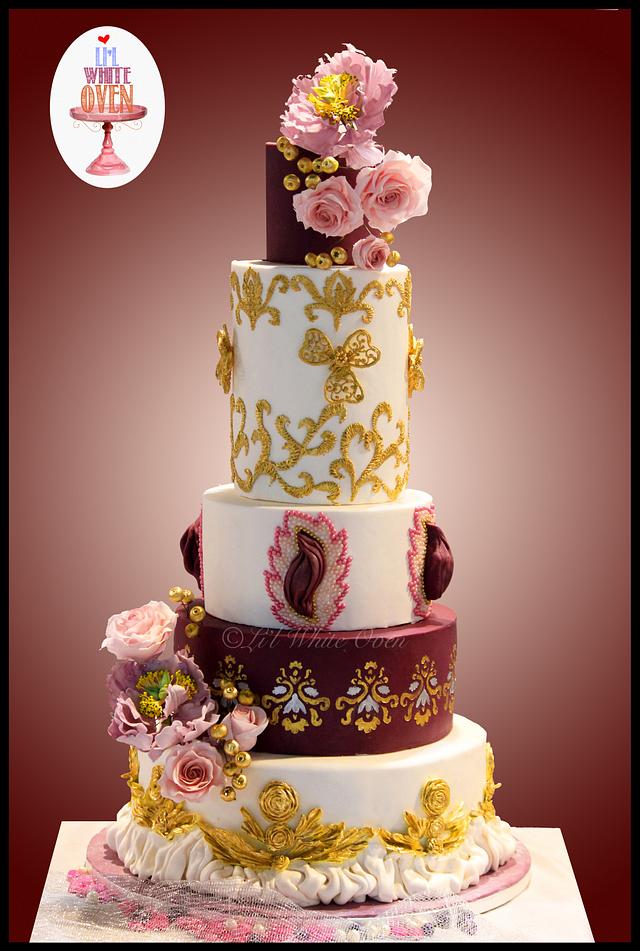 Aristo - First place winner at Wedding Cake Competition, Cakeology India
Absolutely bone weary today after having participated in two consecutive cake competitions at the most happening cake show in Mumbai right now, Cakeology 2016.
On Saturday I participated in the wedding cake competition at Cakeology – Cake fest and beyond, at Bombay Exhibition Center, Goregaon. For this competition we were required to make a wedding cake of three or more tiers, and with one tier being made entirely in cake. The design and theme was left to us.
With that in mind, I ruminated for days and days on end, often considering forfeiting the competition because I simply didn't have a clue about my cake design. Rather, there were so many ideas floating about simultaneously in my mind puddle that it left me confused. However when I finally sat down to it, it was as though the cake was already there, I just had to put the pieces of the puzzle together :)
I picked the color palette of purple, gold and white. I know…. #rolkem!! It was a simple yet elegant color palette that I chose. The purple and gold to symbolise grandeur and royalty and the white to symbolise purity.
For the extended tier I chose to do hand piped embossed embroidery technique using royal icing. To complete the look I added filigree royal icing flowers and painted it all with gold to give them a larger than life look. The piping itself took me a good 5 hours and left my hand numb and my shoulders aching.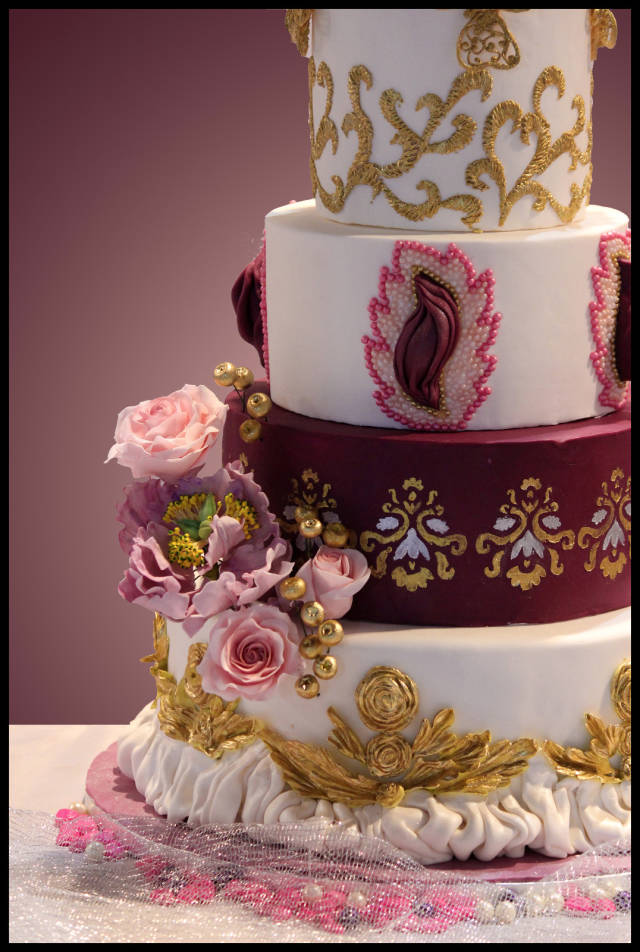 The beaded tier is inspired by a shibori silk earring image that I picked off the internet. Shibori silk is a fine silk often used in making bracelets and other jewellery and when combined with the right pearls, looks elegant and classy. The beads have been placed one by one using tweezers. Not an easy job considering the shiny thingamajiggy kept slipping off the darn tweezers and each time made me shout out in exasperation. However since I had the final image clear in my mind, I kept at it till finally 3 hours later, all the beads were finally in place.
The stencil work was fairly easy, but I chose to do it with gold and silver to bring a level of interest to it.
The base tier has ruffled and rouched fabric look, and completing the look was the gold scroll work and roses of three sizes.
The flowers are made with gumpaste. I especially love how the roses turned out. Quite realistic and stunning don't you think?
The cake inside was soft chocolate cake with Irish cream whipped cream. Even the judges took second helpings and the cake got cut and eaten by many people present at the fest.
Feel absolutely exhilarated that out of all the amazing cakes that were put on display, my cake won the First Place! I was literally ready to dance because the other cakes were absolutely amazing and to be picked by none other than Valerie and Christina of Queen of Hearts Couture Cakes, UK and Rhu Strand! People that I have been idolizing forever!
cake fondant royal icing dragees rolkem super gold gumpaste food color gels petal craft dust colors fondant tools flower cutters ball tools tweezers #00 nozzle wedding cake wedding cake competition purple gold wedding cake royal icing wedding cake beadwork embroidery handpiping royal icing filigree stencilling gumpaste flowers
11