Thanks SO much to Shani of Shani's Sweet Creations for inviting me to such an awesome collaboration celebrating all kinds of Myths & Legends.
This is my piece, based on the ancient Legend of the Golden Phoenix and the Jade Dragon (see story below). The quilling took me over 16 hours total (or maybe 18?…argh) and I had a topper for this but unfortunately I rushed it so it broke. The Phoenix was inspired by a paper quilled version I found on Pinterest – artist unknown. The Dragon was inspired by tattoo art which I used as a guide to the shape of the head and body but free-formed the quilling part. The wafer paper is painted gold using my method for colouring wafer paper without an airbrush or printer – see post from August 2014 on my blog http://bit.ly/TVCSWaferPaperTip or www.thevioletcakeshop.wordpress.com if you're interested in reading up on it.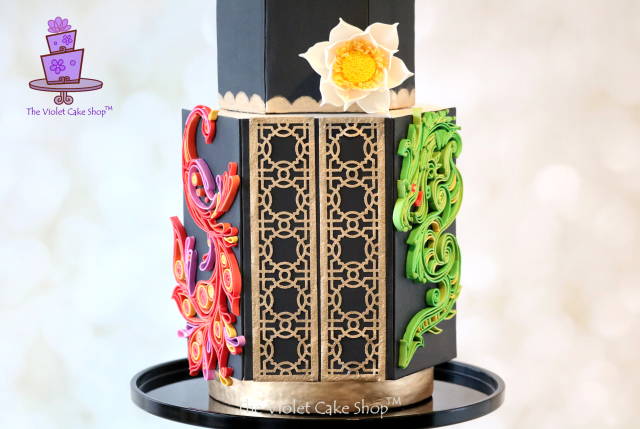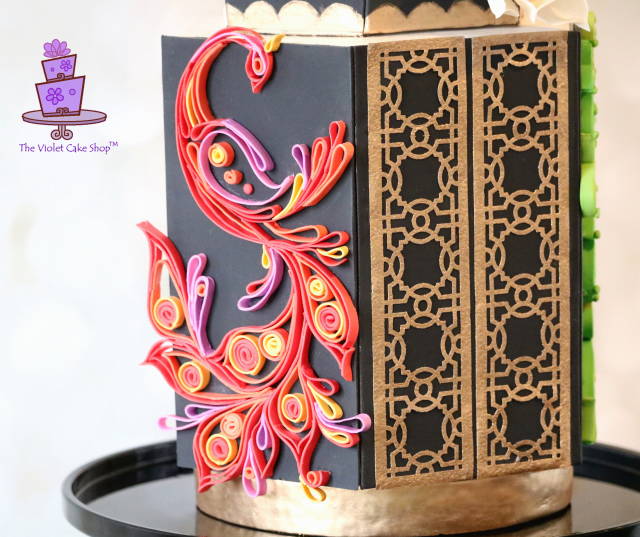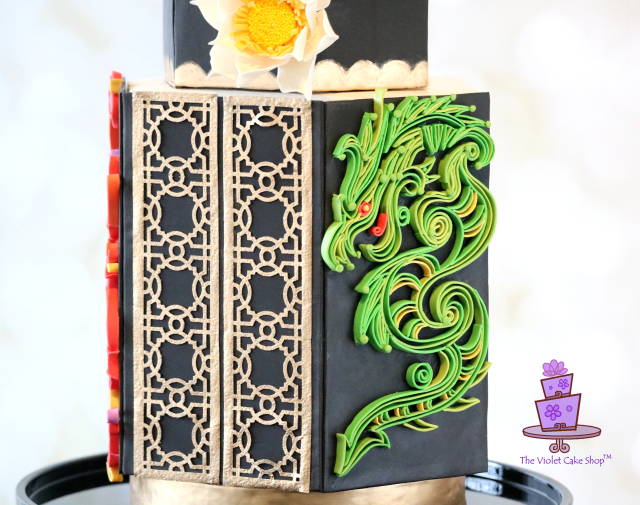 Hope you all will visit our collab page www.facebook.com/MythsandLegendsCollaboration or website www.http://mythsandlegendssugarart.weebly.com/, to see all the other stunning pieces and read about their myths and legends.
The Story behind the Legend:
It has been said that an untold millennia ago, a jade dragon and a golden phoenix plucked a piece of white jade from the night sky and worked on polishing it together for many years. The jade became gloriously radiant and trees turned evergreen and flowers bloomed wherever its rays were cast. Soon, the story of the wonderful jewel reached the West Goddess, who governed the West Heaven and she dispatched her army to steal the precious stone away. The Jade Dragon and the Golden Phoenix struggled to take it back, only to be denied by the goddess. Ultimately, they fought fiercely for the jewel and the West Goddess was vanquished, leaving the jewel to tumble back to the earth. The jade was transformed into a pearl-like lake, known today as the West Lake (in Hangzhou, China). Its fall was followed by that of the Jade Dragon and the Golden Phoenix, who became the Jade Dragon Mountain and the Phoenix Mountain. The two are now said to guard the shores of the West Lake forever.