Cake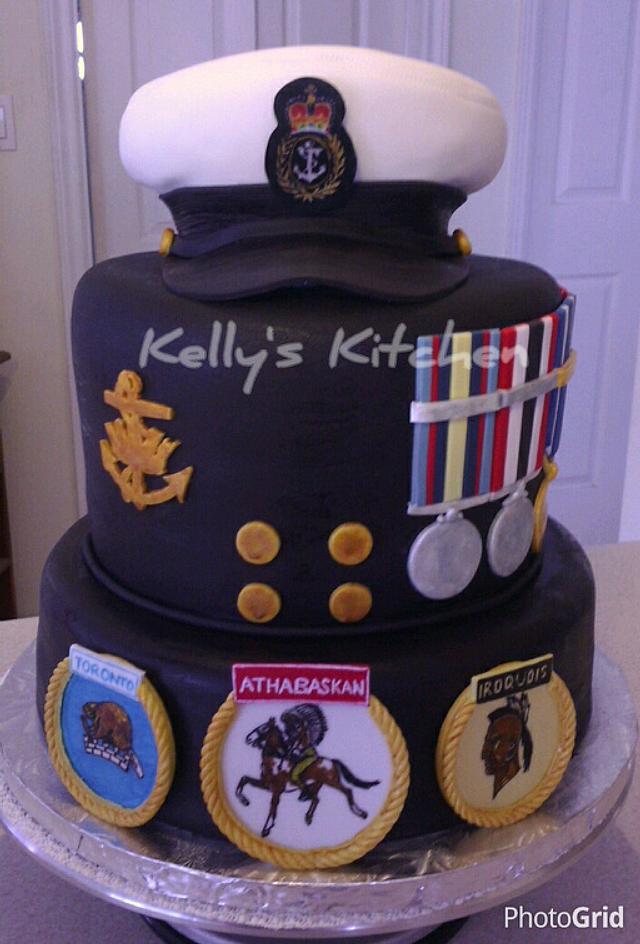 (Canadian) Navy Retirement cake
I made this cake for a friend retiring from the Canadian Navy. The tiers of the cake are meant to represent the dress inform that they wear, black pants with a black double-breasted jacket and hat (also cake).
Around the bottom tier are the (simplified) badges of the three ships he served on (I didn't include the crown detail that is above the ship's name). I made the one for the Athabaskan larger and put it in the center as that was the ship he spent the bulk of his career on. His wife told me that he knew that ship as well as he knows himself!
On the center tier, the gold anchor signifies his amount of sea time and then of course his medals. They are left to right: Gulf & Kuwait medal, Special Service Medal (NATO), NATO Medal for the Former Yugoslavia and Canadian Forces Decoration Medal. I really wanted to make the medals life like but simply ran out of time.
I was nervous about the details as I knew a lot of navy guys would be in attendance and I did not want to insult any of them by omitting something or having something not quite right. I was not able to attend the party so I didn't get to see the reactions to the cake but I received a very lovely email from Scott (the retiree) thanking me for it. It was one of the nicest thank yous that I have ever received. I hope you all like it too.
8