Cake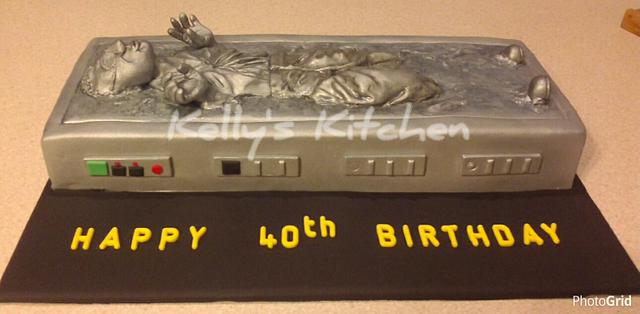 Birthday boy in carbonite
This was my last cake of 2015. Back in Sept of 2014 my friend said she wanted me to make a birthday cake for her husband's 40th birthday. I said sure, when is his birthday? She answered Dec 30th so I assumed it was for the coming Dec but then she went on to say he would turn 40 in 2015! I laughed that she was asking so far in advance but the year really seemed to fly by.
Her husband is a big Star Wars fan so her request to have him in carbonite as opposed to Hans Solo in carbonite. I haven't done much modeling, this was only my second go with modeling chocolate, but I took my time and was really quite pleased with the finished product. I didn't quite get the shape of his face right but I did get the dimple in his chin :-) I enjoyed working with the modeling chocolate and would like to do more down the road. My only regret with the cake was not doing a better job of the sides with all the control "thingys". There didn't seem to be a lot of good images of how it looked so I put my efforts in to Bernie instead.
I ran in to her the other night and she said they ended up saving his face cause she just couldn't bring herself to let anyone cut in to it! Made me chuckle.
Hope you like him :-)
6