Cake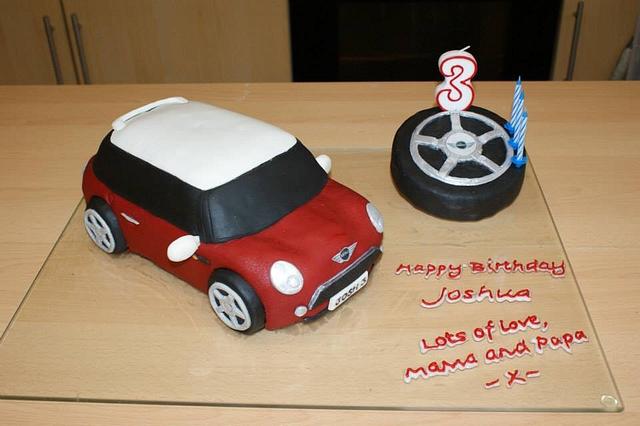 BMW Mini Cake
My second novelty cake (one year after my first – see Roary Cartoon Car)
Once again, I drew up the plans in orthographic and layered up the sponge cake using vanilla frosting. Then crumb coat, and finally ready to roll icing (I think it is fondant but not sure). I had recorded the actual engine sound of a Mini onto a sound module and had intended to place it within the cake, but I simply could bear cutting into the cake. I then quickly made a bigger wheel (note less quality) and hid the sound module in that! This also gave me a place to put the candles without damaging the main cake.
I bought the mini logos printed on rice paper from eBay so everything is edible (except the sound module of course).
This cake was actually quite difficult as the proportions have to be very close and everybody recognises the car. The bonnet is a little short but I think I got away with it :)
Spoiler and wing mirrors had to be made in advance so they had time to dry out and hold their shape.
I like using the glass 'cake board' because I came up with a little cheat: I print the text on a computer and place under the glass, I then use this as a guide to ice the text.
PS I am sure the black ready to roll icing sends the children crazy!! I also found it much more difficult to work with – very soft and colour stains everything it touches!
vanilla sponge vanilla frosting fondant icing rice paper prints mini car bmw sound
4